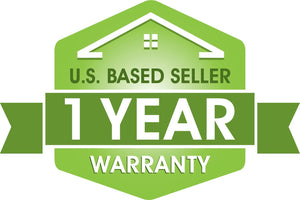 7Penn Hanging Plant Bracket 4-Pack Straight 15" Inch Plant Hook Wall Plant Hanger, Windchime Hanger, Bird Feeder Hook
Color: Black
Features:
TRANSFORM ANY SPACE INTO A UTOPIA: Use the 7Penn | Hanging Basket Bracket 4-Pack as a hanging plant hook, bird feeder hanger, lantern hook, bug zapper hanger, wind chime hanger, mason jar hanger, and more; Hang a wreath, solar lights, holiday decorations, ornaments, flower balls, bird baths, squirrel baffles, and more in the backyard, inside your home, or at weddings
PERFECT SIZE: 15.1" x 0.4" x 4.25" inch (38.4cm x 1cm x 10.8cm) overall dimensions; Has 14-inch (35.6cm) distance between hook and mounting shaft to hold up to 28-inch (71.1cm) diameter pots and décor (holds items 14 inches away from wall or ceiling); 0.75-inch (1.9cm) hook curl opening to fit virtually any hanging item
EASY TO INSTALL: Mount horizontally or vertically by screwing into a wood fence post, deck post, indoor wall, or even ceiling; Includes a set of 1-inch (2.5cm) long black wood screws and 2 anchors for each hook; 1/4-inch (0.6cm) diameter mounting holes that stand 1.75 inches (4.4cm) apart (measured from center to center); Hook hold strength is dependent on the strength of the surface on which you apply the hook
BUILT TO LAST: 2/5-inch (1cm) diameter hook constructed from hand-forged solid steel to offer a charming and traditional look; Not hollow and has no segments to mess with or lose; Holds approximately 20 pounds (9.1kg) depending on how securely it is mounted
PACKAGE CONTENTS: This package includes (4) hanging brackets with (2) mounting screws and anchors each (8 total) for your convenience
Publisher: 7Penn
Details: Bring the beauty of flowers, herbs, and other décor to your home with 7Penn | Plant Hanger Hooks. Other plant hooks for hanging baskets require assembly, are hollow, or have plastic parts - all of which can compromise the hook integrity and look. Thankfully, these hanging plant stands have a one-piece solid steel design and include 2 mounting screws and 2 anchors each (8 total) for more stability. The space-saving hanging basket hook design keeps your plants away from ground pests and prevents wind from tipping over the pots. You can hang lanterns to instantly create a glow in your garden or near your front door to light up the night. Dress up any party or romantic dinner by using these garden hooks to hang string lights on a patio and flower balls or mason jars along a fence. WARNING: This product can expose you to chemicals which is [are] known to the State of California to cause cancer and birth defects or other reproductive harm. For more information go to www.P65Warnings.ca.gov.
UPC: 811498033315
EAN: 811498033315
Package Dimensions: 15.2 x 10.5 x 2.4 inches