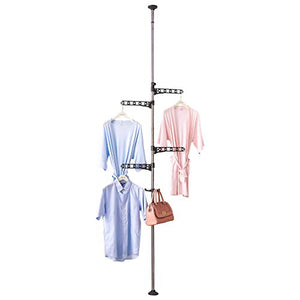 Hershii Portable Indoor Garment Coat Drying Rack Free Standing Clothes Storage Hanger Telescopic Tension Pole DIY Floor to Ceiling Lundry Racks Organizer System, Height Adjustable - Grey
EASY TO SETUP: Easy to install with no tools and no damage to your decorative wall, use the corner space to hang your clothes, scarves, handbags, ties or display plants, making full use of the vertical space in the home
MULTI-LAYER DESIGN: 4 hooks can be rotated 360 degrees, 1 three-jaw hook can be used to hang bags, height adjustable. TPE anti-skid bottom on both ends, built-in spring fixing.
ADJUSTABLE: Size Approximately: Height: 175-235cm/68.89''-92.51''; 230-290cm/ 90.55''-114.17'', the height is adjustable in two sizes and can be adjusted according to the size of the home.
DURABLE & MULTI-PURPOSE: Made of stainless steel composite pipe / ABS / PP material. Suitable for indoor, living room, bedroom, balcony, windowsill, office, bathroom and etc.
INSTALLATION TIPS:When you extend the vertical pole toward both ceiling and floor, fix the position, please shake the vertical pole by hand to ensure the vertical pole set up firmly.
Material: Stainless steel composite pipe / ABS / PP
Size Approximately: (Two Sizes Adjustable)
Height: 175-235cm/68.89''-92.51''; 230-290cm/ 90.55''-114.17''
The hook's length is about 33.5cm (13.18'').

Easy to install with no tools and no damage to your decorative wall, use the corner space to hang your clothes, scarves, handbags, ties or display plants, making full use of the vertical space in the home
4 hooks can be rotated 360 degrees, 1 three-jaw hook can be used to hang bags, height adjustable.
TPE anti-skid bottom on both ends, built-in spring fixing.
The height is adjustable in two sizes and can be adjusted according to the size of the home.
Suitable for indoor, living room, bedroom, balcony, windowsill, office, bathroom and etc.
Installation Tips: When you extend the vertical pole toward both ceiling and floor, fix the position, please shake the vertical pole by hand to ensure the vertical pole set up firmly.

Package Included:
1 x Garment Rack
1 x Instructions
Hershii Amazon ASIN B07JDQSMTP Home & Kitchen Storage & Organization , Laundry Storage & Organization , Drying Racks