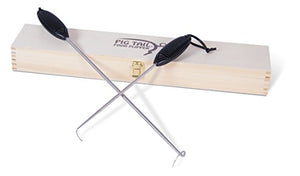 Jaccard Pig Tail Combo Wooden Food Flipper Gift Box,19-Inch/12-Inch, Plastic Handles
Dishwasher safe
Great for grabbing, dipping when battering Eggplant, chicken breasts, etc.
The Pig Tail Hook and shaft are made of surgical-grade stainless steel for strength and durability
Eliminates need for multiple tools at the grill
Excellent for food service applications; Reduces potential for Carpal Tunnel injuries
19" & 12"pig tail food flipper-dishwasher safe-abs handle. The innovative tool that flips, turns and lifts everything from a rack of ribs to steaks, tenderloins, chicken, bacon, corn on the cob, potatoes, etc.
Jaccard Amazon ASIN B00H8YC8VU Patio, Lawn & Garden Grills & Outdoor Cooking, Outdoor Cooking Tools & Accessories, Grilling & Barbecue Utensils, Barbecue Turners