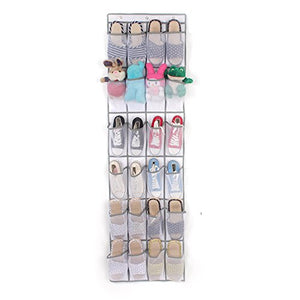 Over Door Shoe Storage, 24 Large Mesh Pockets Heavy Duty Hanging Holder Tidy Wall Fabric Shoes Organizer, Shoe Storage Rack Bag, Toy Storage, Foldable Hanging Over Storage Wardrobe (White)
LARGE CAPACITY - TradePro Shoe Organizer Over Door features 24 pockets, helping you to neatly store 12 pair of shoes without taking up additional floor space. And since it's collapsible, you can simply fold it up when you don't use or use it for travel.
MULTI-FUNCTIONAL - 24 pockets offer you space for storing 12 pairs of shoes such as flats, sandals, slippers, running shoes, flip flops, etc. However, it doesn't end there. It also fit for bathroom, Laundry and Kitchen, such as cleaning supplies, makeups, small plants, toys and crafts. scarves, belts, costume jewelry, dolls etc.
MAXIMISE SPACE WITH GREAT DESIGN This organiser maximised the space, is well made, transparent so that you can see the items, the material is strong enough to hold plenty stuff, and more importantly it has pockets that are actually big enough for large cleaning products. BREATHABLE NON-WOVEN BACKING: The organiser is made of non-woven fabric, which is a breathable, soft and eco-friendly material, helping you to get away from smelly shoes
MOVABLE HOOKS FITTING STANDARD DOORS Hooks of this Shoe Hanger come with flat designs and white finish, fitting both the thickness and style of most residential and closet doors. The door could be closed with ease even if the organizer is hanging on it.
100% SATISFACTION GUARANTEE - Your Satisfaction is our #1 priority! If you are not satisfied with your purchase, you can easily reach out to us for our Hassle-Free 100% Satisfaction Guarantee. If after first use our products don't Exceed your expectations we will refund your money Zero Risk!
Wisdoman Amazon ASIN B073Z623NH Home & Kitchen Storage & Organization, Clothing & Closet Storage, Shoe Organizers, Over the Door Shoe Organizers