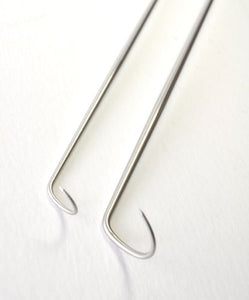 Pigtail Food Flipper Project Kit for Woodworkers Set of 2
WOOD HANDLES NOT INCLUDED
Complete illustrated instructions.
Included one 18" and one 12" Flipper
Easy Project for the Woodworker, no special chucks or mandrels are required
A Pigtail Food Flipper Project Kit for Woodworkers. DOES NOT INCLUDETHE WOOD HANDLES. This Innovative Pigtail Food Flipper is one of the most popular new tools for grilling on the Barbecue or turning food in the kitchen. Great for grabbing and dipping when battering eggplant, chicken breasts, etc. The PigTails hook and shaft are made of surgical grade stainless steel for strength and durability. The razor sharp hook will not leave marks in your meat or cause meats to bleed and will not pick up grease like a spatula. A Very easy project for the woodturner. No special mandrels or chucks are required. The handle is drilled, turned between centers on the lathe and installed on the Stainless Steel shaft. Set of two, one 18" for the Outdoor Grill, and one 12" for the kitchen. No wood is included. This makes a great gift item for the back yard chef in your life. You can turn a nice hardwood handle or make a unique rustic handle out of a piece of limb wood from your area. The sky is the limit. Complete illustrated instructions. Enjoy!
Custom Woodcrafting Amazon ASIN B00JXWSCPQ Patio, Lawn & Garden Grills & Outdoor Cooking, Outdoor Cooking Tools & Accessories, Grilling & Barbecue Utensils, Barbecue Tool Sets