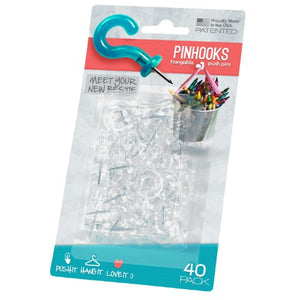 Pinhooks Value 40-Pack Klear Kindness Push Pin Wall Hooks, Transparent
Easy to use wall hook
Installs instantly, just push in and start hanging!
Pinhook hold up to 2 pounds in drywall, 4 pounds in solid wood
Only makes a pin size hole, no nails, no tape, no mess
Made in USA
Pinhooks™ are the new simple and practical solution for hanging items in the home, office, workshop or outdoors. Pinhooks are push pins with a strong plastic hook, that can be quickly and easily inserted into walls, doors, wood, bulletin boards and more, securely holding up to 2 pounds in drywall and 4 pounds in solid wood! Pinhooks get the job done for organizing, decorating or crafting, but only leave a small pin size hole. No mess or hassle with nails, screws or double stick tape. Great for hanging keys chains, jewelry, pet leashes, plastic bags, dish towels, oven mitts, aprons, holiday and outdoor lights, wreaths, party decorations, plant vines and much more. Each Pinhook measures 1.5 in. x .75 in. x .125 in. Made in the USA from durable polycarbonate plastic, with a zinc coated metal pin.
Pinhook Amazon ASIN B00BIX4C9S Office Products Office & School Supplies, Tape, Adhesives & Fasteners, Pins & Tacks