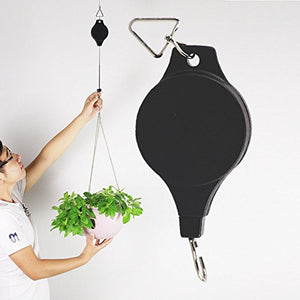 Pull Down Hanger - 1 Piece Hanging Basket Pull Down Hanger 20-90 cm Retractable Pulley Garden Baskets Plant Pots Hanging Basin Retractable Hook
A fantastic way to display flowers or hanging plants. Constructed with an internal durable hanging strap and fitted with two easy to use carabiner style clips.
The pull down hanger is designed for holding decorative hanging baskets in the garden or balcony.
Material: Plastic - Max Weight: under 15kg
Size: approx. 11.5 x 3.5 x 21.5cm - Retractable Length: approx. 20cm-90cm
Package Includes: 1 x Pull Down Hanger
Pull Down Hanger - 1 Piece Hanging Basket Pull Down Hanger 20-90 cm Retractable Pulley Garden Baskets Plant Pots Hanging Basin Retractable Hook
Unknown Amazon ASIN B07C7S658B