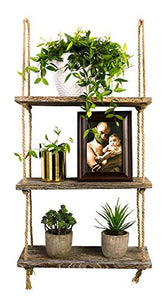 TIMEYARD Decorative Wall Hanging Shelf, 3 Tier Distressed Wood Jute Rope Floating Shelves, Rustic Home Wall Decor
These decorative 3-Tier hanging wood shelves are appealing and sturdy. Each is made of strong wooden boards (17" x 8" x 0.7") and featuring a rustic-style torched finish. It is approximately 11" between shelves when hanging, floating shelf is about 41 inches tall.
3-Tiered Floating Shelf is the perfect piece for any rustic, country, modern, farmhouse or natural home wall decor. Hung with natural jute, they have a unique, rustic charm. They allow to better organize spaces and to put all sorts of things on display. They are perfect choice for adding additional shelving space for books, collectibles, plants, crafts, photos and more. Their simplicity makes them versatile!
These rustic rope hanging shelves are great farmhouse wood wall decor for your kitchen dining room, living room, bedroom, farmhouse, apartment, dorm room, or office. Alternatively, plant shelf can be hung on the wall, in front of a window, on the window or on a terrace, indoor or outdoor.
These rustic wood hanging shelves with rope are easy to hang. Just hang from a nail, screw or hook. The adjustable cord allows you to hang from the middle or on either side like a swing, and they can easily be leveled.
TimeYard is a registered trademark, attention to detail is always our priority and all of our products are professional manufacturing and sole selling. 100% satisfaction guarantee, in case any problem or you are not satisfied, full refund or replacement for free guaranteed.
TIMEYARD Amazon ASIN B07CHYV4X8 Home & Kitchen Kitchen & Dining , Storage & Organization , Dinnerware & Stemware Storage , Mug Hooks