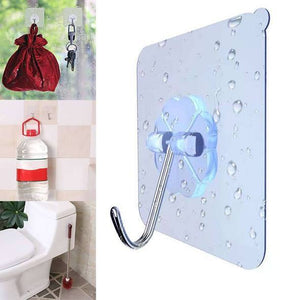 Super Sucker (12 Pcs)

HAVE YOU EVER USED A SELF ADHESIVE HOOK THAT CAN EASILY TAKE ON 50KGS?. BELIEVE IT!!

HERE IT IS! 

THE SUPER SUCKER
The Super Sucker is a super strong self adhesive hook that can take on up to 50 kgs with no problem at all. It uses a thousand micro suction cups behind the hook to attach solidly to the wall. It is made with high quality material that won't turn yellow or brown and won't lose adhesion over time. The stainless steel hook is made from excellent qualified stainless steel that diffuses light, preventing focused light from damaging surfaces.
FEATURES:
STRONG SUCKER - can attach on glass, ceramic brick, stainless steel, smooth metal and so on.
UTILITY HOOKS- for used in bathroom, outdoor ,kitchen, decorations including ceiling hooks, coat hooks, key hooks, plant hook, bath towel hook, picture hooks and more.
EASY TO USE- Just clean and dry the surface, then put the hook on smooth surface. Easy to clean and re-position without surface damage. It can be reused again and again if dried with a hair dryer - much better than the suction cup hooks.
TRANSPARENT DESIGN- Easily blend in and stay invisible on the wall.
SELF ADHESIVE- No nail needed. Won't cause damage to the wall. Super waterproof and oilproof, high and low temperature resistance
SPECIFICATIONS:
Material: Plastic
Color: Transparent
Size: 6cm x 6cm
Package Includes: 

Super Strong Sucker Hook x 12 pcs