19 Artists & Makers Creating Unique Outdoorsy Gifts & Art Inspired by a Passion for the Outdoors
Posted by admin on
Im really excited to share todays post with you, because being an entrepreneur myself, I have a soft spot in my heart for other entrepreneurs who are out there doing what they love and sharing their gifts with the world. I want to provide some alternative outdoorsy gift ideas for you as you begin to do shopping for the holidays. In leu of some of the more traditional hiking and backpacking gifts out there, these outdoorsy gifts are handcrafted from artists and makers all over North America.
Weve reached out to them to not only share their craft and their art with you, but also to share a little bit about their story and how the outdoors has inspired their work. Plus there will be details on where you can connect with them and support their work!
I really hope you love this post as much as I do, and without further ado the creators, the makers, and the artists:
19 Outdoorsy Gift Ideas Hand Crafted by Outdoor Artists & Makers
1) Hook Yarn Carabiner
What do you create and how did you get started?
Hello! I am Ellie and I am passionate about inspiring others to find their creative niche. I design crochet patterns geared toward for exploration and adventure - this includes warm hats, scarves, leg warmers, blankets, and chalk bags! I want everyone to have fun, both creating their makes and then taking them outside! I am a self-taught crocheter and am always eager to learn more. I decided to start a blog last year to share my designs and join this creative community of fiber artists. My silly and bright rock climbing chalk bag patterns are some of my favorite designs.
How does the outdoors inspire your work?
When I am not crocheting, I am mountain biking, rock climbing, mountaineering, hiking, backpacking, paddling, and generally spending time outdoors in my local community. I am working to bring an outdoorsy vibe to the crochet world and love creating designs that either reflect the natural world or are for using in the outdoors. I come up with most of my designs while exploring the outdoors; I am always jotting down ideas while rock climbing or backpacking and especially enjoy taking my crochet outside with me. I always bring it along on backpacking trips and anytime I am traveling. I love that playing with yarn does not have to only take place on my couch at home, and that rest days and downtime in the mountains can be filled more creativity and inspiration. Crocheting on trips keeps me centered. It keeps my hands busy during unforeseen inclement weather and calms me when I push myself outside of my comfort zone. My designs are inspired by what I see, feel, and hear in nature, and I love to share them with others and encourage them to also take their crafts outside.
Where can we learn more about you and support your creation?
I post my crochet patterns on my blog, https://hookyarncarabiner.com/, and also sell my patterns and, occasionally, finished products on Etsy and Ravelry, https://www.etsy.com/shop/Hookyarncarabiner. You can also follow me on Instagram and Facebook @hoookyarncarabiner to see photos of me crocheting on outdoor adventures!
2) Kula Cloth
What do you create and how did you get started?
I started volunteering as a Backpacking Instructor with Washington Outdoor Women almost a decade ago. As a passionate backpacker in my spare time, I was frustrated by the amount of toilet paper that I saw discarded in fragile alpine environments. I read an article about using a bandana as a 'pee cloth', and I went out and bought a small square of microfiber fabric, which was completely LIFE CHANGING for me. I was no longer drip-drying and feeling nasty or hauling in/out tons of toilet paper on my wilderness trips. On the Wind River High Route in 2016, I was taking a photo of my pee cloth in a stunning alpine setting as a joke to send to a friend. Suddenly, I was struck by an idea... "Why isn't that a real piece of gear?" At the time, I was a Railroad Police Officer and I had never sewn anything in my life, nor did I have any experienced in the textile industry. It took a few years to figure out the ins and outs of the product, but in 2018, I launched Kula Cloth as the very first of its kind - a legit pee cloth for all the places you 'go'.
How does the outdoors inspire your work?
For me, spending time outside IS the work. I am a better person and I am more connected to myself and my 'why' when I'm spending time in the backcountry. When I'm in the mountains or spending time in the wilderness, I'm not bombarding myself with fear or doubts - I'm tapped into who I truly am and I can naturally allow the ideas and inspiration for Kula to come to me in an organic and fun way. Every single decision or organization that we support or thought behind our product or our events was born on a trail in its infancy. The wilderness is a reflection of the beauty that lives inside all of us - if we can remember that, we can accomplish anything in life.
Where can we learn more about you and support your creation?
You can find Kula at our website, which is www.kulacloth.com or on our instagram page, which is @kulacloth. We also hosted our very first major event this past October, and you can learn more about our events at this page: www.kulapalooza.events
3) At Wild Woman
What do you create and how did you get started?
I am a creator of all kinds. Over the years Ive labeled myself illustrator or painter or graphic designer, but it always changes because there are so many seasons and cycles to creativity. Right now I am in a poetry phase, but recently Ive also been painting abstract oil landscapes.
I got my start five years ago when I began working as a graphic designer. Being self-taught (I went to school for journalism) I learned and developed my visual voice on the job. Shortly into the job, I realized I wanted more artistic freedom, so I quit and started a freelance design business as well as The Year of Making, where I experimented with all kinds of visual mediums every day for a year.
And Ive never looked back!
How does the outdoors Inspire your work?
Nature is everywhere. You dont need to drive to the desert or mountains to experience it. Its right outside your door. It can even be inside your home. And even more, I believe it is a part of us, and we are a part of it. Nature isnt just out doors, it is also inside. All we have to do is listen to tap into its vast wisdom and beauty.
Because of this, I feel a connection that informs every part of my art making. There is an unspoken communication that happens every time I calm my wildly human mind. Even if I can just manage to do it for a second whether through meditation, a walk in the woods, or a whole weekend in the alpine. I often wonder why I dont do it more!
Where can we learn more about you and support your creation?
You can find my work at https://atwildwoman.com/ and https://amandasandlin.com/, or follow me on Instagram at @atwildwoman.
4) Lindsay Jones
What do you create and how did you get started?
Art was just about the only subject in school that I ever got excited about...that, and gym class. Those were my two favorite subjects then, and if I was still in school, they would still be my favorite subjects now! I ended up studying art in college and went on to graduate school for fine arts where I focused on printmaking, painting, and sculpture.
I've always loved working with my hands. After school, I had to figure out how to actually earn a living doing creative work, and I figured out quickly that fine art was not gonna pay the bills. That's when I started to refocus my fine art skills into illustration, design, and animation. I had to quickly teach myself how to use programs like Adobe Illustrator, Photoshop, and After Effects, so that I could get the work that I wanted. My first freelance work was creating surface patterns for a women's shoe company, and that led into doing more illustrations, animations, and patterns for lots of different types of apparel, and other fun projects.
For the past year or so, I've been working on an illustration series of all of Colorado's 14er mountains which I completed this fall (right on time for the holidays). I've always wanted to work on a series of some sort, and it came to me last year when I was actually working on a different project for one of my freelance clients where I had to illustrate some mountain peaks for a map. I loved how they turned out for the project, so I decided to start working on the 14ers.
How do the outdoors inspire your work?
The outdoors is a really big part of my life. I am a mountain biker/cyclist and I love spending time exploring, regardless if I'm in the middle of the woods or in a big city. For the past 10 years, I've lived in locations that are surrounded by mountains and forests, so it's pretty natural for these things to sneak their way into my artwork. Being outside is what helps me stay sane with the fact that as an illustrator and animator, I am in front of a computer waaaay more than I really want to be.
Where can we learn more about you and support your creation?
Well first of all, thank you so much for supporting independent artists, and small businesses! My 14er illustrations are for sale in the shop on my website www.lindsayannajones.com (Like Indiana Jones!), and you can follow my work and projects on instagram @lindsayannajones.
5) Jitterbug Art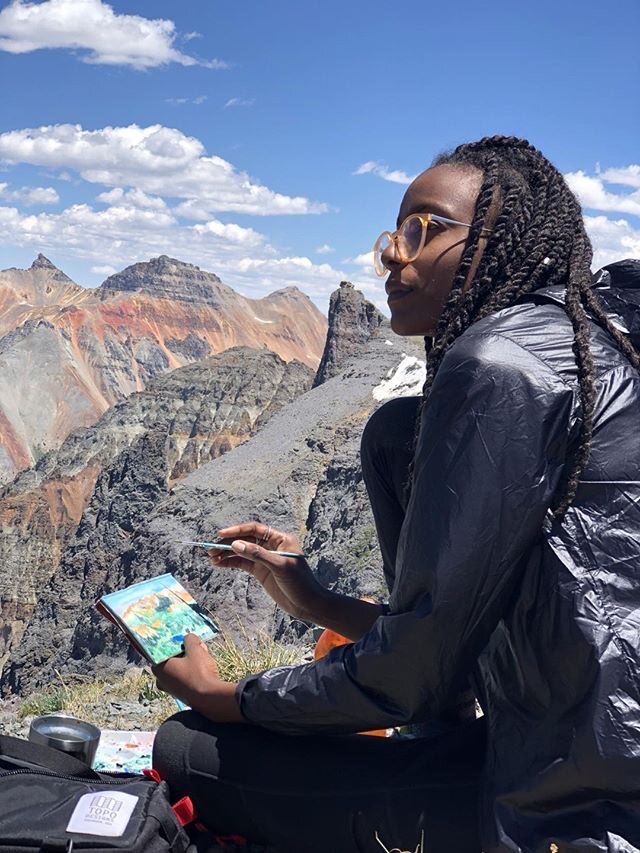 What do you create and how did you get started?
I am an illustrator! I work mainly with watercolor and ink and I have been an artist my entire life. I have always been passionate about painting and creative visual problem solving so I've worked really hard to make it into the career I have today. That included always making art and not letting other peoples doubts hold me back from following my dreams.
How does the outdoors inspire your work?
Nature is incredibly vast and beautiful. It is our number one source of inspiration as a society. As an artist that is working mainly within the outdoor realm, I pull as much inspiration as I can from my travels. Things like textures, compositions, color palettes, and interesting shapes all come from mother nature. I love taking road trips because that is when I have my most clear thoughts. I pull over to a rest stop and sketch for a few and then go back to daydreaming. I feel lucky to have been able to align my work with my passion for nature and being outdoors.
Where can we learn more about you and support your creation?
I share a lot of my process and studio practices on my instagram @jitterbug_art . But you will find a lot more of a curated experience of all my creative projects on my website, www.jitterbugart.com. I am a freelancer so the best way to support my practice is to purchase from the shop on my website or share my work with folks that may want to commission me or purchase my work. Thanks again for taking the time to read a little about me.
6) Sarah Uhl
What do you create and how did you get started? (i.e. the "why" behind your art and your business)
I create artwork that carries the themes of cause based stories like my love of the Earth and how we can protect her! Im primarily a watercolor painter but Ive been trying my hand at sewing lately to develop my GREEN LINE- a set of zero waste products. Ive always thought of myself as an artist but Ive only been making art professionally for the past 4 years. Im self taught and think that taking an experimental approach to everything is a great way to go!
How does the outdoors inspire your work?
Mountains have always been my muse. Being outside is what makes me feel most alive and feeling really alive is what inspires me to make artwork! I feel passionately about protecting the places we love and advocating on behalf of the land so most of my artwork is created with that in mind.
Where can we learn more about you and support your creation?
www.sarahuhl.com or on IG @sarahvirginiauhl or on my new blog about going semi-plastic-free waste less :: love more, And for holiday gifts, here is my online shop!! www.sarahuhl.com/shop
7) My Outdoor Art
What do you create and how did you get started?
I paint about women in the outdoors, with a focus on mental health. I created Myoutdoorart (my art business) to inspire more women to conquer their fears and climb the tallest mountains.
How does the outdoors inspire your work?
I studied Wilderness Therapy in college, and I am currently pursuing my master's in Outdoor Education. These two fields are rooted in metaphors. I think my work illustrates those metaphors.
Where can we learn more about you and support your creation?
You can learn more about my artwork and the meaning behind it by visiting myoutdoorart.com and on Instagram @myoutdoorart.
8) Lizzy Dalton Art
What do you create and how did you get started?
I make mixed-media work on paper, using a combination of fineliner pens and different kinds of inks and paints. I've been drawing and painting for as long as I can remember, and in college I majored in studio art with a concentration in painting. I started developing my current style around 2014, when I decided to combine my love for art with my other greatest passion, rock climbing. I started to apply my existing love of detail, pattern, and texture to the rocky and mountainous landscapes I wanted to climb.
I started building a business out of my art in 2015. I began sharing my art with the world through Instagram, and soon after began making prints of my art to sell on Etsy. I find that others who love nature and the outdoors identify with my work, and I hope that by sharing my art, I can continue to allow viewers to feel the beauty and magic that exists in the natural world.
How does the outdoors inspire your work?
I love outdoor activities that take me to beautiful places in nature rock climbing in particular but also mountaineering, hiking, and backpacking and those activities often inform my art. My favorite landscapes to paint are the rocky, dramatic mountainscapes and prominent peaks that inspire the climber in me. I like to focus on iconic climbing destinations places like Yosemite or Patagonia and I try to depict them through the lens of a climber, capturing the way these places draw us in and ignite our desire to explore and discover.
I find time spent in the outdoors to be meditative and rejuvenating, and in my art I want to convey some of that emotional experience. I love it when customers tell me stories of the trips and memories that my pieces commemorate for them, and I hope that my art can continue to inspire viewers to seek out adventure in the outdoors.
Where can we learn more about you and support your creation?
You can learn more about me and purchase art at lizzydaltonart.com. You can also follow me on Instagram at @lizzydaltonart.
9) Bewildher
What do you create and how did you get started?
When I first founded my brand, my vision was to inspire women to have more fun while pursuing health and wellness. I believed activewear had the power to be wearable inspiration; who wouldn't want to workout more wearing fun and beautiful prints?
I quickly discovered that while I was empowering my female customers, I was inadvertently encouraging the suppression of the female garment employees making my product. 80% of garment workers are women, most earning below the poverty line - YES, even in cities like Vancouver, BC, Canada where we wrongly assume minimum wage means "ethical."
My first solution was to quit, only to realize this served no one, and I began to research how I might inspire change in the activewear industry. I change my business model to align with the values of slow-fashion, with the purpose of empowering all women, including the makers and our mother earth.
How does the outdoors inspire your work?
Often, as I trail run through the woods, I think "how devastating would it be to live in a world with no trees?" and I remind myself "how lucky am I to be able to run freely through the forest." This awareness of my local environment, living in Squamish and in close proximity to the oceans, mountains and rainforest, inspires me to do as much as I can give back and help those less fortunate. I use my brand as a platform to help plant trees and educate consumers on where their activewear comes from, often asking them to consider the quality of life of the women who make their clothes.
Where can we learn more about you and support your creation?
Readers can read my story and slow-fashion pages at www.bewildher.com and follow @bewildher in Instagram.
10) Alive Among Mountains
What do you create and how did you get started?
Before I started embroidering, my life was spent either training for climbing or working as a substitute teacher. Since I lived off the grid, I wanted something that I could do when I didnt have access to electricity or wifi. I saw somewhere that there were these kits that would teach you to embroider a design and at the end, you had this nice little complete hoop. After doing that one kit, I was hooked. I started buying more thread, more hoops and fabric, and soon I had my own little art corner in the trailer. I started creating designs and learning more stitches. It didnt take long before I had a ton of hoops made, so I decided to try to sell them on Etsy.
Now I make mostly custom hoops for people for their friends and family. I find that a lot of people get them for birthdays and Christmas, since its a pretty unique gift that, personalized, can mean a lot for someone. Its been almost two years now since I first started, so Im definitely still learning but getting better with every project.
How does the outdoors inspire your work?
When I look at most of the hoops Ive made, I find that the colors I use are mostly Earth tones. Theyre the colors I see when I look out my window at the Sierras, or the colors I see out in the Buttermilks. I like the look of the more muted tones in my embroideries. Ive also done a few pieces that were inspired directly from the scenes outside of my trailer. I find that I cant help but try to replicate views that Im constantly in awe of. Since I spend a lot of time outdoors, those tend to be views of the mountains, plants, and random landscapes of climbing areas around the world.
Where can we learn more about you and support your creation?
I have an Etsy where I sell my past work and where people can order custom work. The link is https://www.etsy.com/shop/aliveamongmountains. I also have quite a few customers who just reach out to me on my Instagram, @aliveamongmountains, for custom work.
11) Katherine Homes
What do you create and how did you get started?
I create art that puts a spotlight on threatened species and wildlands. Currently, most of this art is in watercolor and wood format, I paint on a sustainability sourced wood, but also have other means, music being one of them.
Ive been creating art and music since I was very young. My mom has these hysterical recordings of me making up songs when I was about 3 years old. Ive been drawing since I could hold a crayon. I think I just came into this world with a creative mission to protect the natural world.
Ive always had a very strong and intimate connection to the natural world and the desire to protect those who don't have a voice or means to stand up for themselves. My grandmother says its in my blood. My Dads side of the family is partially Cherokee. I was horribly shy when I was young and I was happiest playing outside in the woods with my squirrel, bird and deer friends and these early experiences defined me and the work I do.
Using music as a platform to talk about difficult and complex problems I came out with my first solo album, Speak, in late 2016. I launched it on Kickstarter and needed a way to give back to supporters. So, I put some designs on hats and tote bags and as my album came out my brand slowly started to launch. In a way it was inevitable because it was a dream of mine to use my art as a way to bring attention towards threatened species and using what I think is affordable and functional art lets me do that.
My goal is to use art as a way to draw people in, educate them on these very complex issues and inspire them into positive action without being aggressive or shaming them by saying your actions are killing off the Sea Turtle, and instead saying, this is whats happening to the Sea Turtle, and this is what we can do to help them. The idea has always been to reach the masses, and I think of my products as an easy way to connect to those who maybe arent as aware of these issues, then hopefully being that first step into making positive changes in their lives.
Purchasing a product from KH ensures you have the visual material you need to spark conversation in your communities while also helping our partner organizations continue their work. We are a 1% for the Planet Member and are committed to giving at least 1% of our annual sales to organizations focusing on conservation, bringing compassion into schools, and ensuring we all have access to the wild so we can explore, connect and protect it.
How does the outdoors inspire your work?
Everything I paint is inspired by the natural world, from the flowers, trees, and wildlands to the threatened species and farm animals. Im always looking for patterns in plants and watching for subtle changes in color that inspire my color schemes. With what is going on in our world today, I consider most things to be threatened by climate change, overfishing, unsustainable agriculture, so my paintings typically bring in an endangered species, or a species / wildland that is threatened or soon to be threatened.
The other way it inspires my work as the outdoors reminds me to slow down and connect with the wisdom found in the natural world. There are so many important lessons that we often miss because we dont take the time to stop and absorb these often subtle lessons. These are good reminders because my paintings take forever to create, its a slow and mindful process, that I love. The natural world reminds me to surrender and stay present.
I do believe that if we took the time to connect and respect ourselves and one another, wed be able to connect and respect the natural world. I dont think we can do one without the other.
Where can we learn more about you and support your creation?
The website is always a great spot to learn more and support: www.katherinehomes.com. You can also find me on Spotify, Katherine Homes, Album, Speak. We also just got into REI through a test run and would LOVE support there: https://www.rei.com/search?q=katherine+homes. We are selling nationwide, but if you dont see our products in a store you think wed be a great fit in wed love for you to tell us! info@katherinehomes.com ; You can also follow me at Instagram, @k.homes
12) Tra Kaia
What do you create and how did you get started?
My name is Bridget Kilgallon, and Im the founder of a brand called Tra Kaia. We got started out of a frustration with how normal bras fit. As a climber, Ive got pretty big lats, and normal bras and sports bras just didnt fit at all. Plus, theyd fall apart with pretty much any rigorous outdoor activity.
At the time I had two other friends who shared similar issues with ill-fitting bras and so we set out to make something different: basewear. Basewear is a swim-friendly sports bra that was designed for outdoor adventure. In the design process, we realized that one size really doesnt fit all so we developed two styles of our best selling TOURA Basewear Top. We started with the Low Cut: a minimal, form-fitting style for lower cup sizes and muscular body types and later developed the High Cut: the same form fitting style with more coverage and support for larger cup sizes.
How does the outdoors inspire your work?
The outdoors inspires us in three ways: function, form, and our brand message.
In terms of the function of our garments, its completely designed based on how it will perform in outdoor environments. The top is versatile enough to be worn on land as a sports bra, or in the water as a swim top. It dries quickly so you can jump in a lake, and get back to hiking. Our fabric is hydrophobic and anti-microbial so you can wear it camping and it wont get gross. The most important part is that it feels like you have nothing on, and never digs into your muscles so you can get outdoors and focus on what youre doing without feeling uncomfortable.
Aesthetically, our brand is inspired by nature. We use color palettes that are inspired by nature, so as to create a look that never overshadows the wearer. We say that if the basewear is the art, the wearer is the frame.
Our brand encourages you to get outdoors and be your outside self. Were all about bringing out what makes a person unique: their natural features, and helping people get more in tune with the natural world around them.
Where can we learn more about you and support your creation?
Follow Tra Kaia on Instagram @terakaia and tag us on your adventures. We love to see where our customers take their #basewear! You can try one for yourself at our website www.terakaia.com
13) Powers Provisions
What do you create and how did you get started?
While I'm a full-time photographer and filmmaker, I call myself a part-time grandma and fill the shelves of my online mercantile, Powers Provisions, with handknit goods and beaded jewelry as well as handcrafted goods from my talented artisan friends. I love making beautiful things with my hands and sharing them with the people I love and the people they love. My art embraces a life of adventure and I hope it inspires others to explore and enjoy the outdoors. Alongside these goods, Kaleigh shares her favorite recipes of her classic south meets the last frontier cuisine, cooking tips, and regaling you with tales of their Alaskan adventures on the blog.
How does the outdoors inspire your work?
I often say I love to paint with yarn the colors I've seen in the wild and am inspired by the steely blues and bright whites from Alaskan Glaciers, rusts and golds from the desert of Utah, and autumnal earthy shades from mountains in Maine. All of my goods are crafted for a life of adventure in the outdoors as well, and I encourage folks to wear them well, let the wool felt, and live your best life wherever that may take you!
Where can we learn more about you and support your creation?
www.powersprovisions.com and @powersprovisions on Instagram
14) Peter W. Gilroy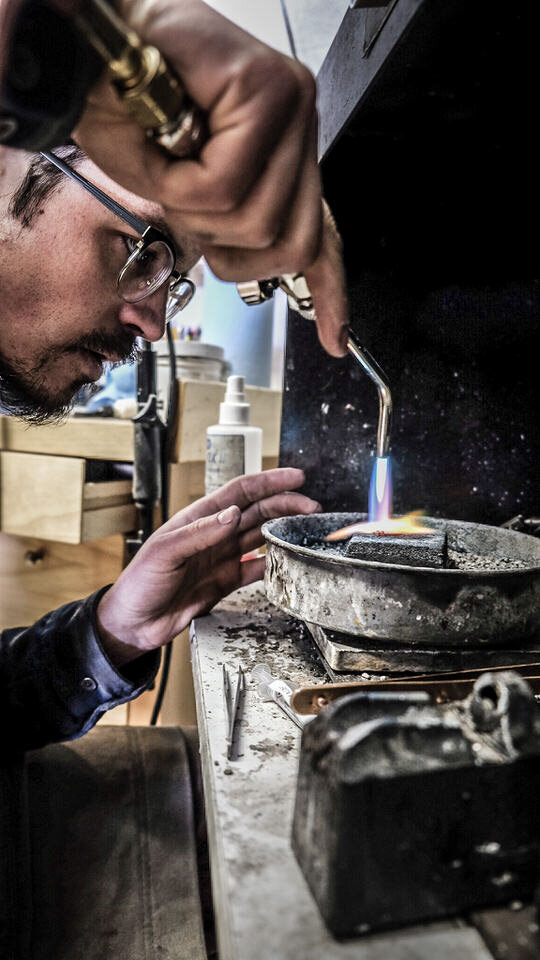 What do you create and how did you get started?
Born and raised in Taos, New Mexico, I was lucky to have grown up with the mountains in my backyard. I grew up creating, working the summers for my uncle, master goldsmith Phil Poirier. In college, I studied photography, and after graduation I started building custom furniture. I got sucked into the endless work, struggling to find balance between my love for climbing and the outdoors on the one hand, and my creative work on the other. In time, I found my way back to metal, and I experimented with making my own jewelry while working for a tool company, Bonny Doon Hydraulic Presses.
In 2014, I had a pivotal change of thinking. Instead of seeing my two passions as separate, I asked myself: What if I combine my passion for making art with my passion for climbing and the mountains? What if I delve into adventure in all aspects of my life? Since that day, I have been on a journey to bring these aspects together. It is easy to be calm and at peace in the mountains, but how do we share that with the rest of the world? I'm a dirtbag for my art, and proud of it.
How does the outdoors inspire your work?
The outdoors is everything to me.
Growing up, I was an overweight, nerdy kid, and through climbing was able to get in touch with my body and learn what I was capable of. Adventures in the outdoors have provided a barometer in all aspects of my life, and helped me through issues of mental health and more.
My work now just feels like a way for me to relive those adventures in the outdoors and dream about new ones, dream about long days traversing alpine ridgelines and climbing granite walls. It is a way for me to celebrate the natural landscape when I am not able to be out there.
Whether it is the subtle details of the texture of granite, the effortless flow that only a hard climb can force us to find, or the amazing views from the top, the inspiration offered by the mountains, and the rock we climb on, is endless. I want to capture the experiences we have outdoors and then bring them forward as mementos, to be savored in all the other moments of our lives.
Everything is made by me, in my small studio, in Taos, NM. I work with American-made machinery and tools. All materials, like stones and metal, are from the best, local if possible, eco-friendly sources.
Where can we learn more about you and support your creation?
You can find me online, instagram @peterwgilroy, and I actually have two websites now, peterwgilroy.com which features my custom and one-of-a-kind creations, and splitter-designs.com which is a new collection of hats, gear, and small jewelry pieces.
15) Static Climbing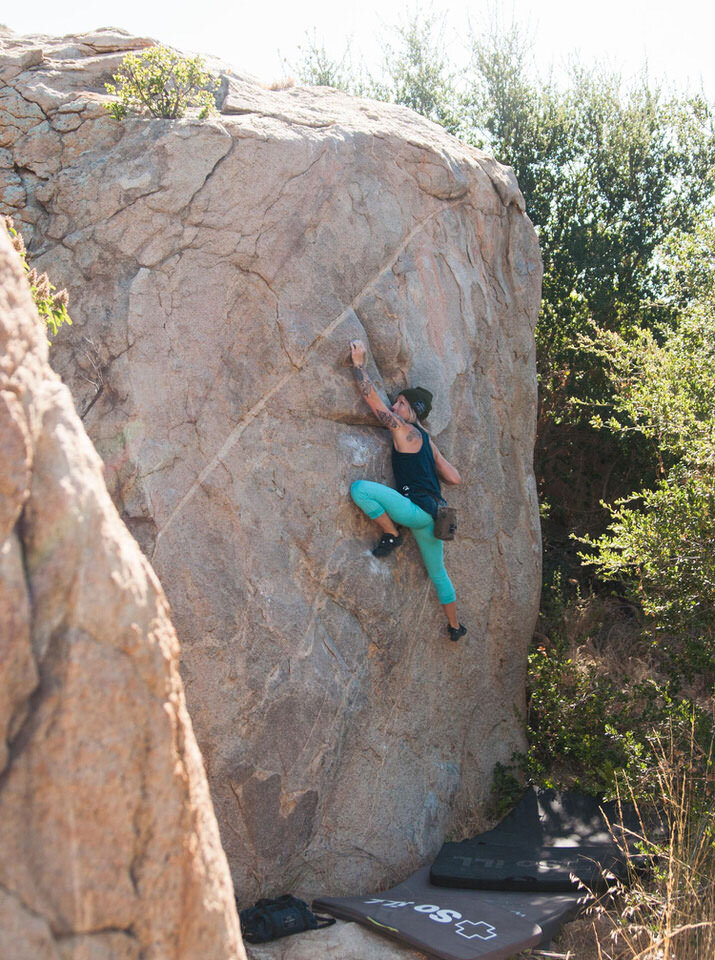 What do you create and how did you get started?
STATIC was born in 2014 from an idea to give a new spin to chalk bags by using different textiles and making them larger so you can chalk up easier.
Sewing has always been something I wanted to learn how to do, so for my 24th birthday, my grandparents bought me my first sewing machine. I taught myself the ins and outs of being a seamstress and created my first chalk bag pattern. Three and a half days later I made my very first chalk bag (which is still in my office today).
My local climbing gym, VITAL, put the first chalk bags in their gym and shortly after that I started an Etsy shop. The entire bedroom and kitchen was my sewing shop, and one chalk bag after another I improved the design and learned how to create a company from the ground up.
My boyfriend Duncan saw how passionate I was and created the STATIC logo that is still used today. He quickly became the other half of STATIC helping with the design aspects of the company. After outgrowing an in-house office, we moved into the back room of a climbing gym a few years later and in 2018 we moved into our very own little shop. REI found STATIC on Etsy (a dream come true!), and over the last few years we have been able to make chalk bags for every REI in the country. Our team is still really small, which keeps our environmental impact small by keeping everything in house. All of our fabrics are sourced from family owned companies.
One of the reasons STATIC is successful is because of Duncan, he is the other backbone of this brand. We make up a pretty amazing team together, and I'm really lucky to have not only an amazing partner in life, but one of the most talented designers. It has been the most incredible 5 years growing with STATIC, I can't wait to see what the next 5 years brings!
How does the outdoors inspire your work?
The outdoors has been one of the biggest inspirations for my work. The Artist Series Collection supports local artists and really captures their inspiration of the outdoors through their artwork. The Traveler Series reminds me of always using my falsa blankets while I'm traveling and camping. The outdoors is really the reason why I have a company in the first place.
When Duncan and I aren't working we are always out adventuring with our dog Dakota! Creating a company that has a small environmental impact is really important, so we have worked to source materials that are made in the US and support family-owned companies like our own.
Where can we learn more about you and support your creation?
You can always email me directly if you have any questions, taylor@staticclimbing.com or check out our instagram @staticclimbing. If you want to support STATIC you can check outwww.staticclimbing.com and use the code DREAMSOFALPINE for 20% off.
16) Le Fox Studio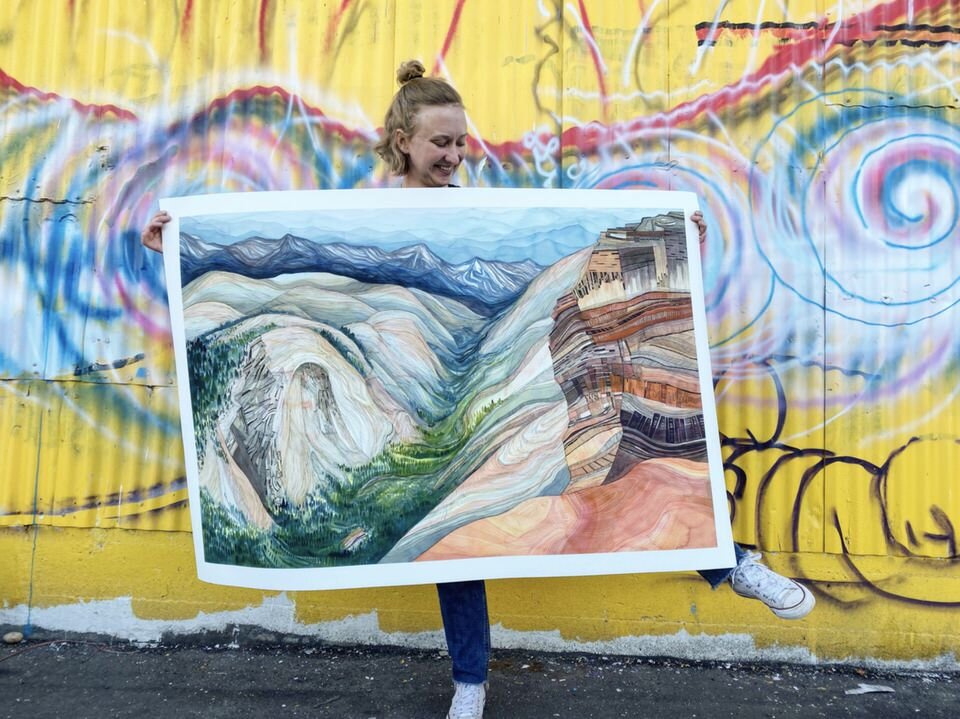 What do you create and how did you get started?
In 2016, I set out to hike The Pacific Crest Trail. Over the course of a five month hiking artist residency, I created over 30 paintings, 40 handmade postcards, and 27 mile markers along the 2650 miles from Mexico to Canada. This adventure has evolved into a more extended studio based project which continues to inform my current body of work. My outdoor adventures among the mountains and valleys of the Pacific Northwest continue to inspire my work and fill the pages of my sketchbooks.
I create work that celebrates and contributes to the protection of the wild places I love to explore through donations of artwork or percentage contributions to conservancies and trail stewards. Using pattern, I create paintings that balance between abstract and landscape to capture the awe of wild places. Much of my work is initiated through bringing a sketchbook on my hikes, which allows a more direct recording of these moments, patterns, and landscapes. These sketches are then brought into the studio where they inform my larger works. Working from drawings and sketches, rather than photographs, allows a more direct transfer of impressions, ideas, and energy of the land into my work.
How does the outdoors inspire your work?
The landscape, patterns within the landscape, color, and the community around trails inspires all of my work. Being in nature, the act of exploring somewhere new, or revisiting a place multiple times are all ideas she explores in her work. Being somewhere new with a sketchbook is always hard for me because its a kid in a candy store situation. As I have developed this process more I have accepted that I wont be able to draw everything in one visit, but that I can always return. This is one of the many reasons I choose to support the conservation of the places I visit. The land will always be there for me, but much of it is under threat which challenges that comfort for all of us.
Where can we learn more about you and support your creation?
You can find my shop at Lefoxstudio.com/shop and my Instagram @lefoxstudio
December 8th
11am-4pm NW Marine Art Works Open Studios & Holiday Market / Portland Oregon
Schedule a studio visit in Portland OR
17) Drawn to High Places
What do you create and how did you get started? (i.e. the why behind your art and your business)
I make watercolor and ink paintings inspired by my time spent hiking, climbing and mountaineering in the Pacific Northwest. I got started because I was so overwhelmed with the magic of the mountains, I wanted a way to capture it. I began taking a sketchbook with me on adventures, and before I knew it, I was painting all the time!
How does the outdoors inspire your work?
I try to capture the movement, energy and life of the backcountry, the feeling of what makes these wild places so special.
Where can we learn more about you and support your creation? + A photo of you with your work (or a photo of your work)
My art is available on my website at www.drawntohighplaces.com or follow my adventures on instagram at @drawntohighplaces.
18) Dynamite Starfish
What do you create and how did you get started?
I create art inspired by rock climbing and all the beauty I see in life. I print that art by hand on tees, tanks and other apparel. I also offer stickers, art prints, and other gifts. Dynamite Starfish began because I wanted to share my passion for outdoor climbing and create art that talked about the subtleties of climbing and highlighted our shared experiences that connect us as climbers all around the world.
How do the outdoors Inspire your work?
The outdoors is the whole reason this work exists! After my first few outdoor climbing experiences, I knew this was something I was quickly falling in love with. At first, my art & apparel were all about specific places, and a portion of the profits donated to hyperlocal organizations that helped conserve those areas. Now, we donate a percentage of all profits to the Access Fund, because we believe they do great work across a number of areas and do advocacy work as well as conservation.
Where can we learn more about you and support your creation?
You can visit my online shop and website:www.DynamiteStarfish.com. Im also pretty available and responsive on Instagram @dynamitestarfish. If you want to learn more about the company history and my philosophy, this podcast is a great intro!https://www.wildermindpodcast.com/home/lesliekim
19) Riveted Oak Designs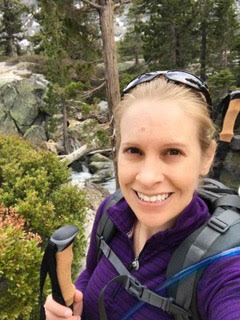 What do you create and how did you get started? (i.e. the "why" behind your art and your business)
I actually didnt get started making outdoor gear. Im a union stagehand, and some stagehands carry chalk bags for tools and hardware. Typical chalk bags arent designed to hold more than chalk, so they dont last very long. I started thinking that maybe I could design and sew a version just for stagehands, so thats exactly what I did! I bought a used industrial machine and started sewing and selling bags to my coworkers. This worked great until I couldnt keep up with orders, so I created a Kickstarter campaign to fund a production run of these bags. That was the start of Riveted Oak Designs.
I started making outdoor gear because I love to hike and backpack, and I was seeing all of these cottage makers pop up. I figured Why cant I do that too? I started making simple, lightweight accessories and gear and field testing everything myself (or having my husband or friends try out products). Nothing I make is crazy expensive, so folks can have ultralight gear without breaking the bank. I like to think that if I can provide solutions for common issues, such as backpack organization, that more folks will be inclined to go outside and explore.
I also make stainless steel jewelry. Im the kind of person that puts on a necklace or earrings and wont take them off for a month or more. Im definitely a minimalist - I dont like big flashy jewelry. Stainless steel is great because yet can take a beating and its super low maintenance.
I love having my own business because I have control over it. I work for myself and my customers - thats it. I can make what I want to make, and help support the adventures of others by making products that help them accomplish their goals. I have customers that are hiking with my products in multiple countries and carrying them on thru-hikes in the USA. How cool is that?
How does the outdoors inspire your work?
I love everything about being outside in nature, and my husband and daughter are the same way. I work for a huge entertainment company and theme park in Southern California, so being outside in the backcountry is pretty much as opposite as you can get from that! I think we get so caught up in our daily lives that we forget how to slow down, live in the moment, and take in our surroundings. Being outside allows us to do that, and has so many mental and physical health benefits as well. When I work with my hands, its a very similar experience for me as being outside, almost like meditation in many ways. I slow down and focus on whats in front of me, instead of worrying about the future or the past.
When I make my products, I want them to have one of two goals: to help people get outside and experience the outdoors, or to be able to express their love of the outdoors to others. If I cant be outside camping or backpacking, making products that help folks do these things is just as satisfying.
Where can we learn more about you and support your creation?
You can head over to www.rivetedoakdesigns.com, or look for my Etsy shop under the same name. Ive also got a Facebook page and Instagram account @riveted_oak_designs. Im not super active on social media, because I prefer to spend my time outside or making things, but you can definitely get a hold of me through any of these options!
---
I really hope you all enjoyed this post, and Ive got to give a big shout out to Kate Sedrowski who is part of my team who helped me collaborate and coordinate with a lot of these great artists and makers for this amazing post. She is a creator in her own right. You should check out the series on her blog called, Beacons of Badassery, an interview series shining light on strong women.
A Big thank you to all the artists and makers who contributed their story and love for the outdoors to this blog post. I am so grateful for this and thank you for sharing your work with the world.
If youre a maker/artist with a passion for shining a light on the outdoors in your work, Id love to add you to this list. Please dont hesitate to reach out to me at teamalpine@shedreamsofalpine.com
Looking for more Outdoorsy Gift Ideas? Check Out these Articles:
Cheers,
Allison - She Dreams of Alpine

Gallery Block These are example images. Double-click here to replace these images with your own content.
Learn more
---
Related Posts:
---
Share this post
---
---