Character Creation by Paula Louise Salvador – Spotlight and Giveaway
Posted by admin on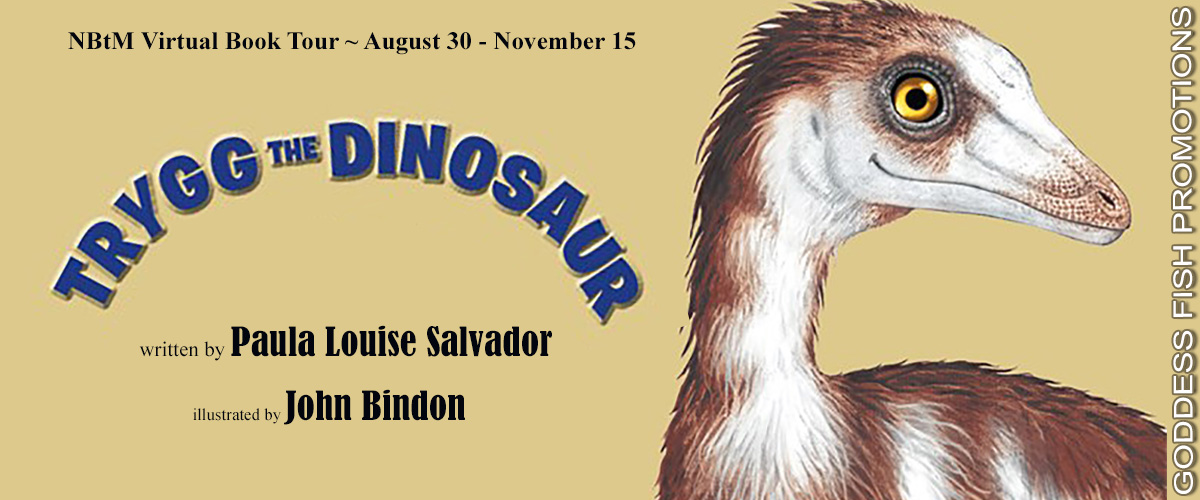 This post is part of a virtual book tour organized by Goddess Fish Promotions. Paula Louise Salvador will be awarding $15 Amazon or B/N GC to a randomly drawn winner via rafflecopter during the tour. Click on the tour banner to see the other stops on the tour.
CHARACTER CREATION
Creating characters from animals is always challenging, but when they're dinosaurs, it's extremely complex. If the young hero (Trygg) is a two-legged meat-eater with long hands and sharp claws, how can I get kids to like him? And how realistic could I make his forbidden friendship with a four-footed plant-eater (Alta) when she is almost five times the size of him and could squash him with one good stomp? First of all, how do I know all these details about real dinosaurs that lived 76 million years ago? I had the privilege of producing the science documentary DINOSAUR BABIES: THE NORTH AMERICAN STORY where we filmed the ancient skeletons of the animals that I later developed into the characters of the fictional kids' adventure story that became TRYGG THE DINOSAUR. I actually held the fossilized egg of the little Troödon meat-eater (Trygg) in my hand. He looked like a curled up chicken about to hatch. For the Hypacrosaur dinosaur (Alta), we filmed the preserved nest that a plant-eater mother had laid long ago. I counted the 25 eggs that were still there. Everything was turned to stone, of course, but the eggs were so well preserved that they made my heart thump. The video is available for download here.
However, for a good story, these animals have to face the same problems of today's kids. Who can Trygg trust? Can he really hang around with someone from "the other side of the floodplain"? How can he stand up to the gang of bullies (especially hard when they pressure him to join their attack on the herd of his one true friend.) How can he stay loyal to that friend without putting her life at risk, especially because she has to deal with a disability from an old wound? And if he gets branded a traitor, then his own life would be at risk (from some nasty, sharp-toothed bad guys).
So Trygg and Alta really are just modern-day kids in dinosaur format. I had a lot of fun dreaming up their problems. Then I put them in some heart-wrenching scenes with bubbling tar bits, menacing tyrannosaurs and dangerous waterfalls. They don't know whether they can trust each other until the very end of the book. And who knows? Maybe a little meat-eater and a big plant-eater really could have to been friends 76 million years ago.
Two young dinosaurs from opposite sides of the floodplain bump into each other by chance. He's a small meat-eater, and she's a big plant-eater. They've got no parents, no food, no friends. They're supposed to be enemies, but they decide to stick together instead. It's not easy. When she gets caught with him, she ends up banished from her herd. He faces a huge rival who could stomp him out with one back foot. They have to outsmart a gang of bullies with sharp teeth and long, curved claws. And they struggle to survive the natural disasters of drought, mudslides and a bubbling tar pit. Worst of all, when they lose contact with each other, they fear betrayal. What if their friendship has been broken?
Enjoy an Excerpt
He had to get out. There was no more room for him inside his egg. The top of the shell had a small crack, so he pushed his snout against it and made a large enough opening to finally poke his head free. He stopped to catch his breath, but his feathers were wet, and the air made him shiver. As soon as possible, he needed to get into the sun to warm up. He quickly smashed the bottom of the egg by scratching at it with his back claws, then he wiggled all the way out. What a relief it was to uncurl his legs and stretch out his tail.
Dark green eggs, just like his, filled the nest. So far, he was the only little dinosaur to hatch. But maybe there were others beyond the wall of his nest. He had to take a look. By reaching high with his hands, he was able to hook his fingers into the dried mud of the rim. His arms were so skinny he could see the shape of his bones under the skin, but he found the strength to pull himself up. His legs wobbled a bit, then they settled, and he stood for the very first time.
"Anybody there?" he called out.
No one answered. He was alone. And he was surrounded by water. His nest sat on an island in the middle of a shallow lake. At least it had been built on top of a mound of earth, so it seemed safe. All was quiet except for the rippling of the small waves.
About the Author:Paula Louise Salvador has had great adventures as a documentary film maker and writer. The scariest was when she stood under the ribs of a Tyrannosaurus rex skeleton – in the dark! The most fun was filming dinosaur dig-sites from a helicopter. On the dangerous side, she had to dodge alligators in Mississippi – and keep all fingers and toes out of the water.
Paula has met fascinating people, particularly jazz legend Oscar Peterson and composer Philip Glass, who performed in her show on electronic music.
In "BUILD GREEN" for the Canadian Broadcasting Corporation's "THE NATURE OF THINGS", Paula and Dr. David Suzuki visited rock star Randy Bachman's super sustainable house. (He played his guitar for us.)
Finally, it was a tiny dinosaur that captured Paula's heart. For her documentary "DINOSAUR BABIES The North American Story", Paula held the fossilized egg of a little Troödon. He was curled up inside, just about to hatch. (His leg bones looked like a chicken's.) That's where Paula's story of Trygg begins.
Paula has a Masters in French Literature from l'Université de Provence, France and a Bachelor of Arts (including Children's Literature) from McGill University, Canada.
Website | Twitter | Instagram | LinkedIn | Facebook
Buy the book at Amazona, Bookshop, Indigo Chapters, Barnes and Noble, Book Depository, Kobo, Smashwords, or iBooks.
---
Share this post
---
---