Cinco de Mayo and heart-shaped cheese: ALDI Finds week of 4/27/22
Posted by admin on

ALDI Finds for the week of 4/27/22 include Mother's Day cheese, Cinco de Mayo foods, gardening staples, and more. Check them out below, and let me know what you want to Find this week!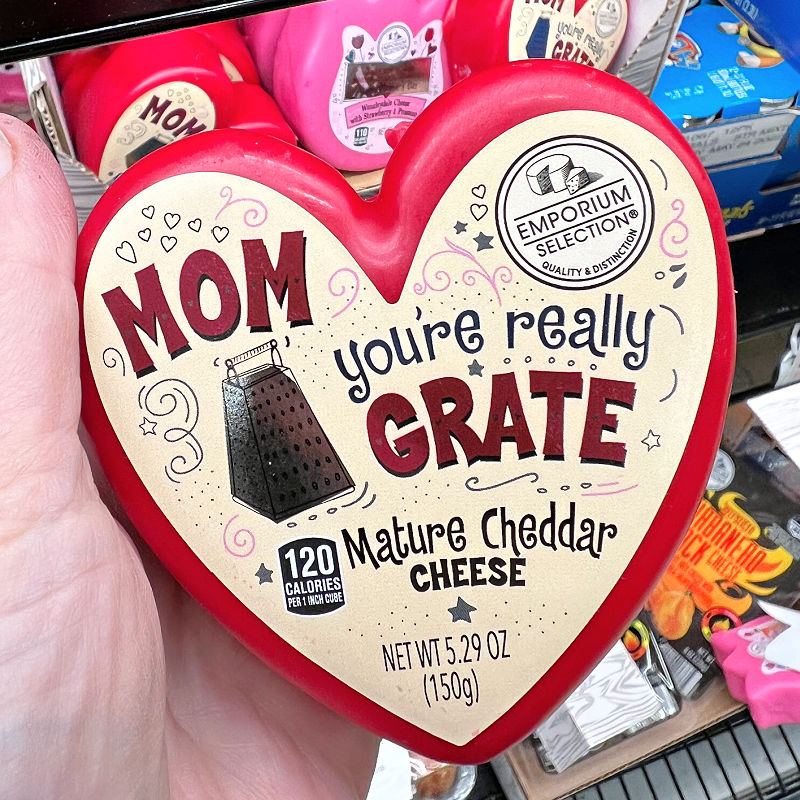 Mother's Day cheese, anyone? How cute is this… it's really "grate," if you ask me! Emporium Selection Mother's Day cheeses are $3.99 apiece this week, and available in Mature Cheddar (red wax heart) or Strawberry & Prosecco (pink wax tulip) varities.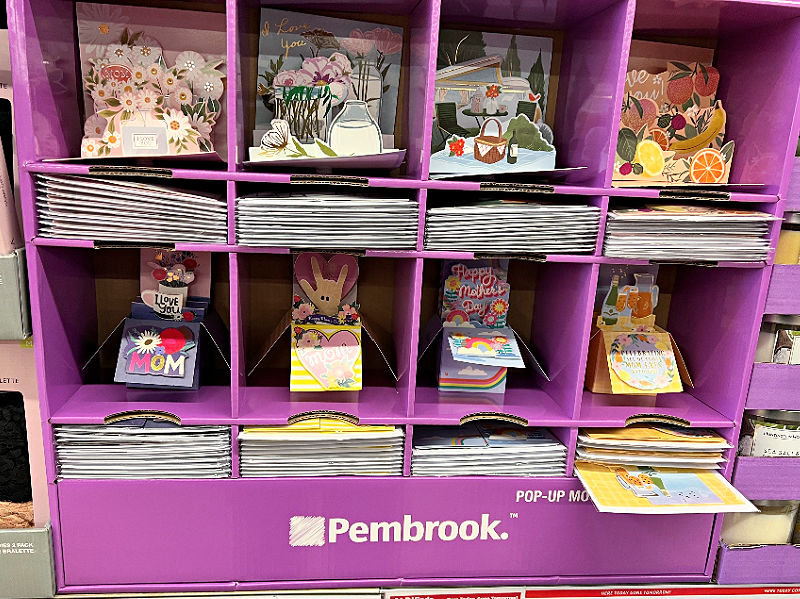 Get a card to go along with that cheese: Pembrook Mother's Day cards are available this week at just $.99 each, or look for these pop-up Mother's Day cards at $1.99.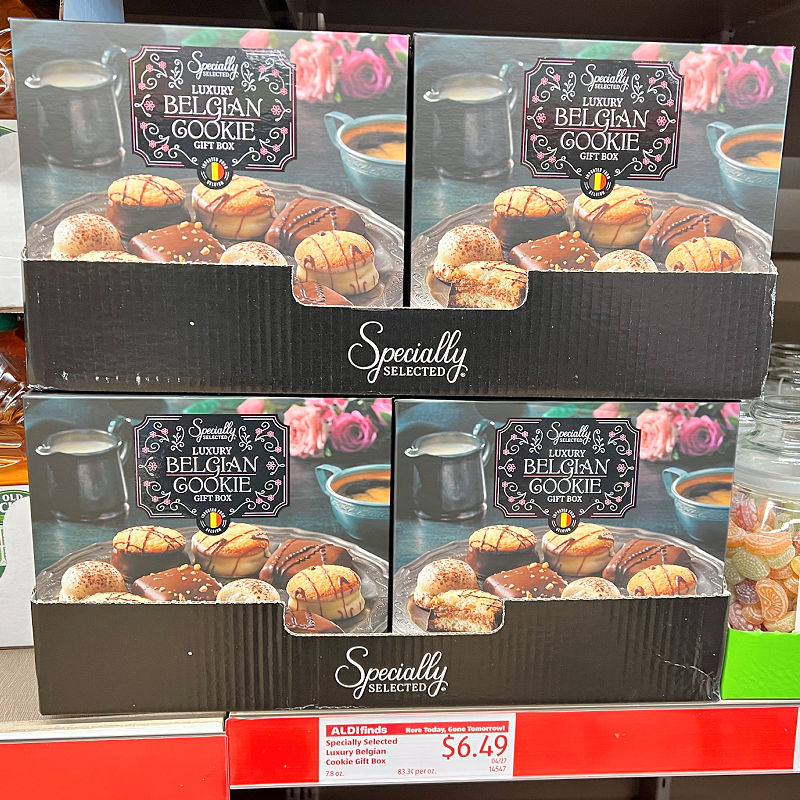 Sweets for mom, too? You betcha:
Choceur Mother's Day heart shaped box of chocolates, $4.99
Specially Selected luxury Belgian cookie gift box, $6.49
Merci Mother's Day chocolate assortment, $5.98
Note that both advertised and unadvertised ALDI prices can vary by store and by region. Now, let's talk about the rest of the top ALDI Finds for the week of 4/27/22. You'll also Find some on 4/24/22 in Sunday ad markets, or if your store tends to put products out early.
Top ALDI Finds of the week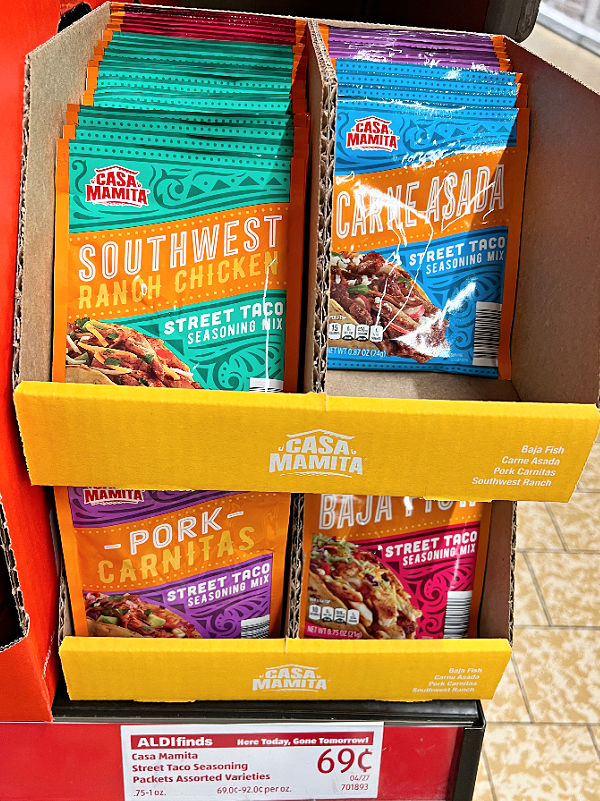 These Finds are in no particular order, as we finish out April and launch straight into May 2022. Here are 16 more ALDI food Finds (plus some national brand Finds), as well as 25 non-food Finds (plus outdoor and garden Finds). All of these Finds were either listed in this week's ad, or spotted in store with 4/27 tags.
Top sixteen food Finds this week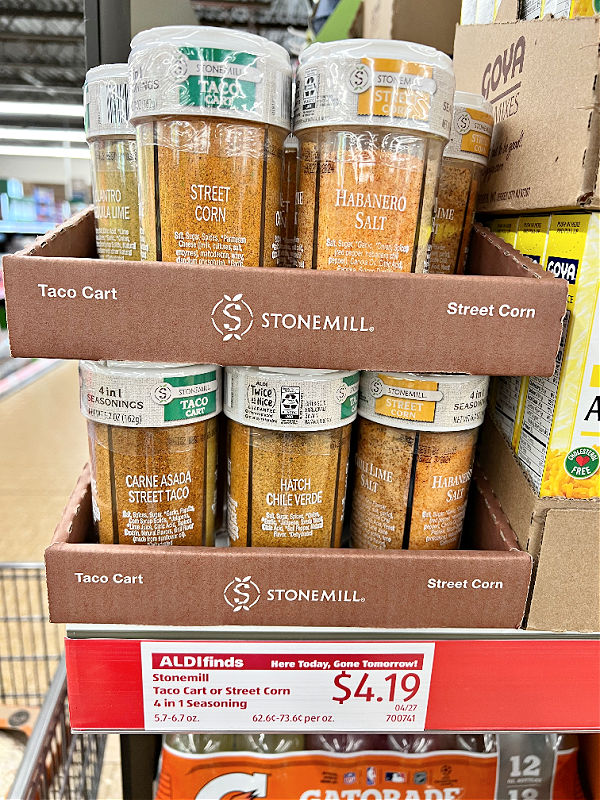 This week's food Finds are largely themed around Cinco de Mayo — so, let's dive right on in!
Bremer chicken or steak fajita skillet, $5.49
Casa Mamita churros, $3.49
Casa Mamita chicken or black bean mini empanadas, $4.79
Casa Mamita carne asada or chicken corn masa bites, $4.79
Casa Mamita Mexican street corn or chorizo Hatch chile ravioli, $6.79
Casa Mamita taco beef & cheese or chicken chile verde meatballs, $4.99
Fremont Fish Market shrimp fajita or shrimp taco mix, $4.99
Fremont Fish Market or Casa Mamita street taco meal kit, $9.99
Specially Selected duce de leche or coffee ice cream, $4.49
Simply Nature family pack organic grass fed 85/15 ground beef, $4.49/lb
Wichita Packing Co. ground pork chorizo 16 oz, $2.99
Clancy's Texas seasoned tortilla chips, $2.99
Clancy's spicy salsa or guacamole tortilla chips, $2.29
Savoritz Parmesan crisps in ranch or queso, $2.99
Casa Mamita street taco seasoning packet, $.69
Stonemill taco cart or street corn 4-in-1 seasoning, $4.19
That coffee ice cream is so good, but is sadly getting more expensive every time it reappears.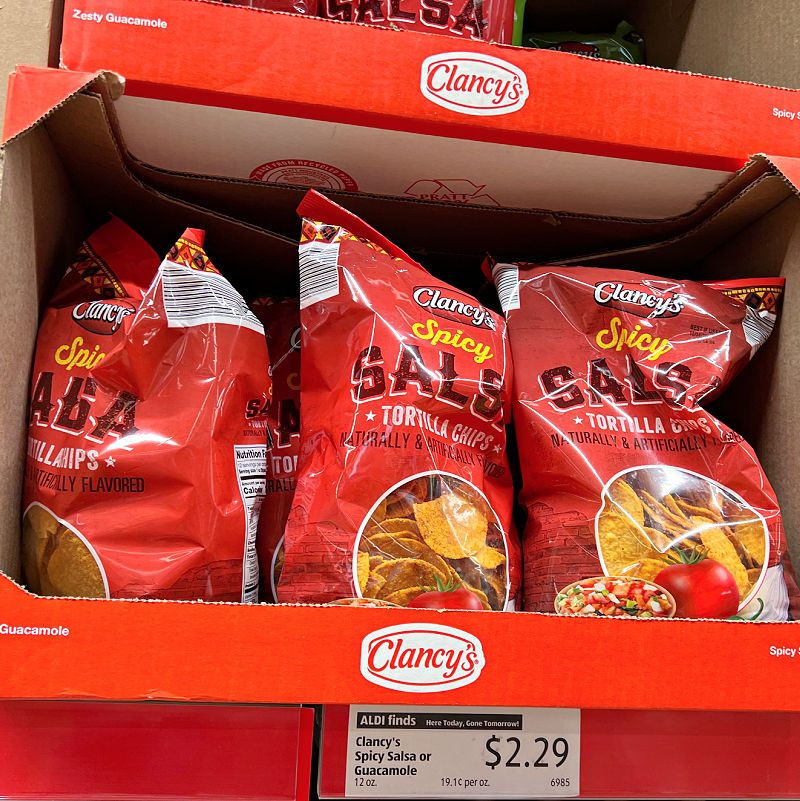 Or if you're feeling more salty than sweet: Got chips? How about spicy salsa guacamole flavored chips, to be precise. These look interesting, at $2.29 a bag.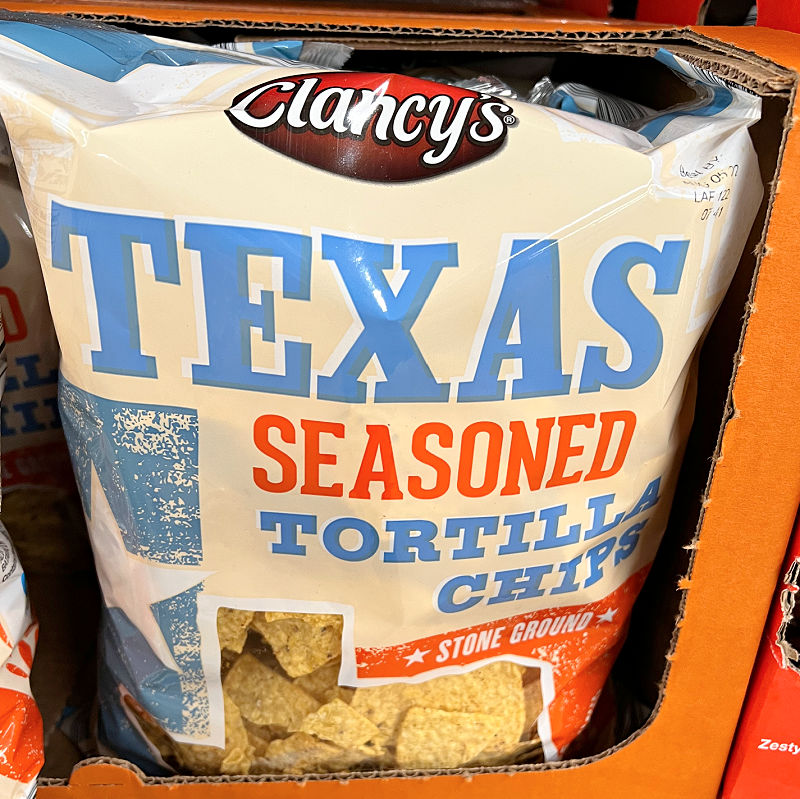 Or, in case you ever wondered what Texas tastes like… Texas seasoned tortilla chips this week proclaim themselves to be stone ground.
National brand food Finds
This week we're again seeing a number of national brand food Finds, such as Chobani yogurt cups, Gino's East pizza, Knorr Sides, Goya rice and Old El Paso dinner kits. These inclde:
Chobani raspberry lemonade Greek yogurt, $1.16
Stonyfield Organic strawberry or wildberry yogurt smoothies, $4.58
Crazy Candy Co. Tutti Frutti jar, $5.99
Gino's East cheese or combo deep dish pizza, $6.60 (select locations)
Home Run Inn classic 6″ sausage pepperoni pizza, $3.48
Texas Tamale Co. 12 pack beef tamales (frozen), $7.49
Del Real pork tamales (refrigerated), see price in store.
Old El Paso dinner kits, $2.72
Goya Spanish style yellow rice mix, $1.68
Knorr Spanish rice sides, $1.26
Coca-Cola mini can six pack, $3.63
Fajita Fiesta hot sauce gift set with pepper board, $8.99
The refrigerated tamales do have good early reviews, if you're a fan.
But: Is it just me, or does anyone else sometimes wish that ALDI would pull back on including these more expensive national brands in their weekly Finds — and instead move back to focusing more on affordable store brand staples?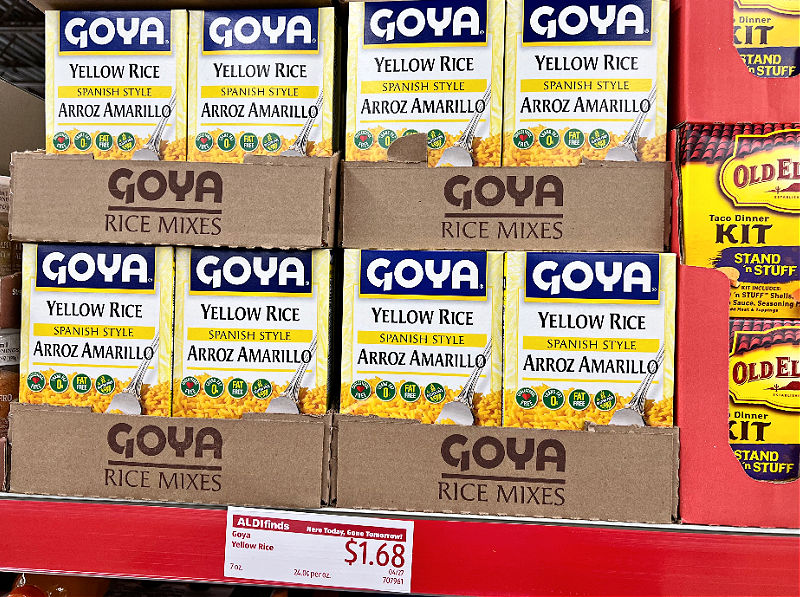 I mean, sometimes these are fun to see, but… Anyway, enough of my random musings, on to:
Top twenty-five non-Food Finds this week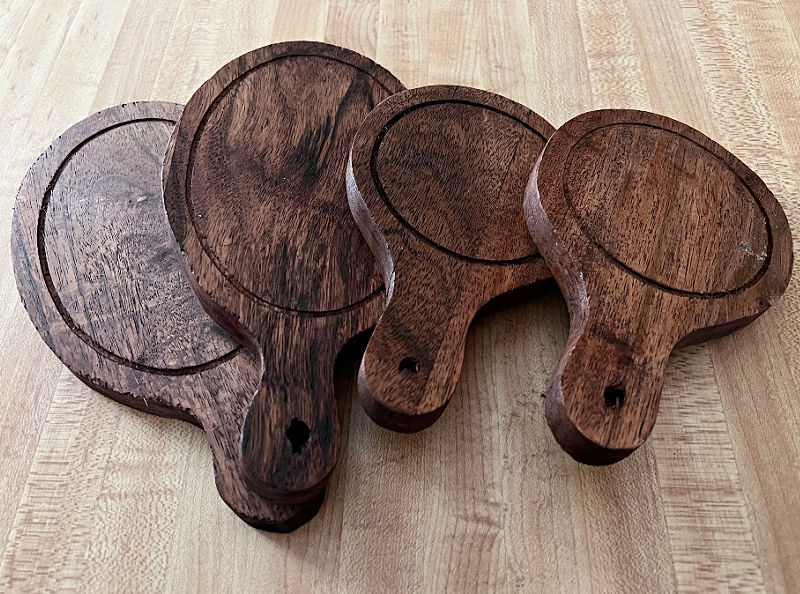 On the not-food front, a longer ad this week. (Beyond the 25 non-food Finds here, see the next section for garden and outdoor picks. 'Tis the season.) Non-food Finds include:
Ambiano XL air fryer, $59.99
Crofton mini wood serving set, $5.99
Crofton Asian knife assortment, $7.99
Crofton color dipped canisters, $14.99
Crofton 3-pack pantry containers with latching lids, $18.99
Crofton banana hanger with fruit basket, $12.99
Crofton cereal container, $6.99
Crofton clip-on silicone utensil, $4.99
Crofton spoon rest, trivet, or coaster set, $7.99
Crofton 16″ pizza pan or 12″ deep dish pan, $3.99
Crofton hammered glass carafe or 2-pack glasses, $9.99
Bee Happy 5-in-1 kids' activity table, $24.99
Heart to Tail cat scratcher with catnip, $6.99
Heart to Tail spring cat scratching playhouse, $8.99
Visage reading glasses with case, $4.99
Serra Ladies' rain boots, $14.99
Serra Ladies' flats, $7.99
Serra weekender bag, $19.99
Serra Ladies' jeggings, $10.00
Lily & Dan girls' ballet flats, $7.99
Huntington Home 3-pack essential oils, $6.99
Huntington Home essential oil diffuser, $4.99
Huntington Home spring reversible wall sign, $9.99
Huntington Home spring mini gnome, $4.99
Huntington Home spring tall reversible sign, $14.99
So, I got a mini wood serving set on clearance after Christmas, and am honestly glad I didn't pay full price. One is cracked down the back already, and they're rough on the edges and unevenly varnished. Maybe this new batch will be better, though!
And… the remnants of the last batch of banana hanger fruit baskets have been languishing on clearance at my store for a while. Now, they have new identical ones in this week's ad for $12.99 — Wonder if they'll sell any better. 😉
Garden and outdoor Finds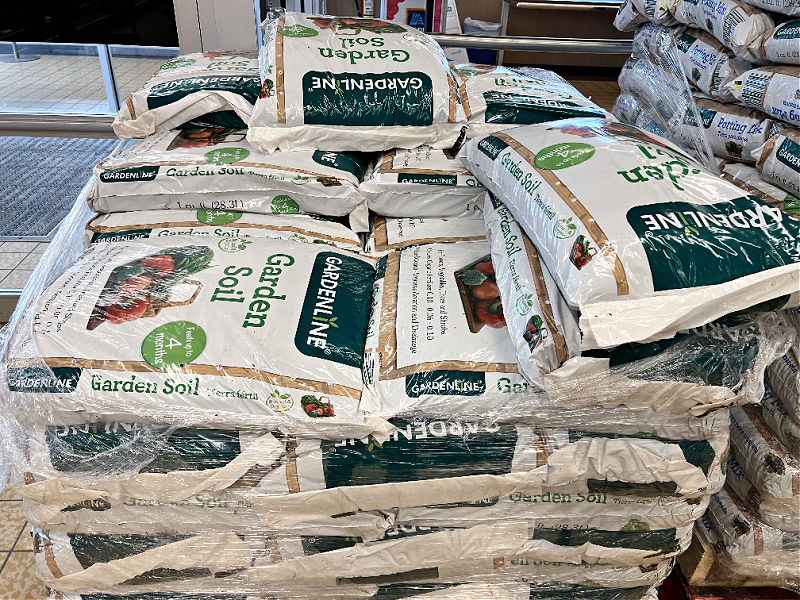 Dirt is back! Hmm, maybe that doesn't sound right, but: If you missed garden soil a few weeks ago, these bags are back again at $3.49 apiece.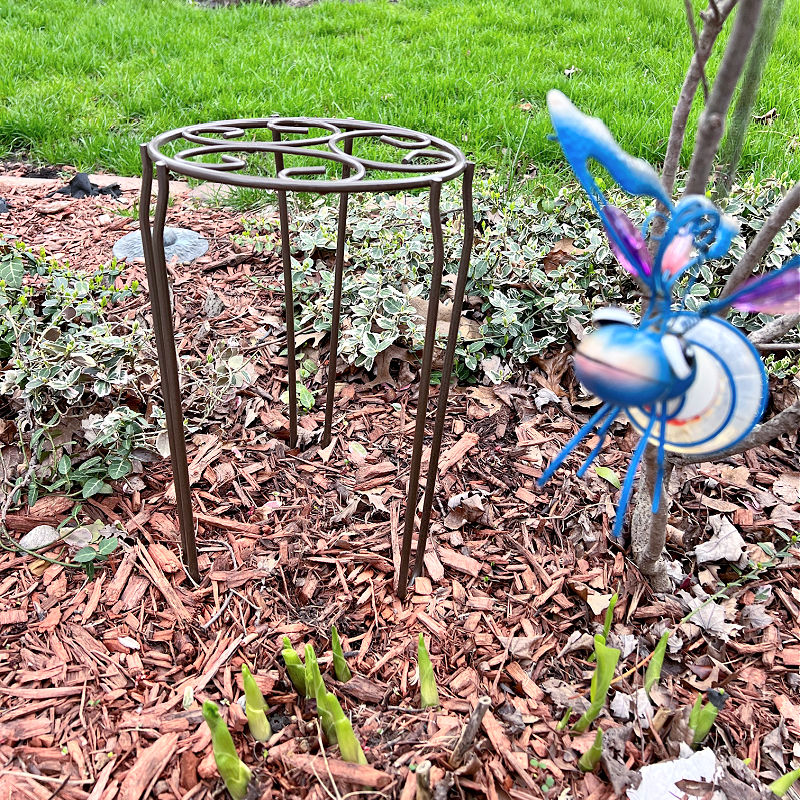 And Belavi plant stands are also back, at $6.99. Mine is still holding up quite nicely from last year. More outdoor (or plant-related) Finds:
Belavi canopy or curtain lights, $14.99
Aloe Vera plant, $4.69
Gardenline berry bush, $5.99
Gardenline flowering shrub, $9.99
Gardenline shade or ornamental tree, $14.99
Belavi shepherd's hook, $14.99
Belavi 8″ decorative planter, $8.99
Belavi 6″ decorative planter, $5.99
Belavi stacking outdoor ottoman, $29.99
Belavi wooden plant ladder stand, $39.99
Gardenline bender board composite garden edging, $19.99
Gardenline children's gardening set, $9.99
Those plant ladders went super quickly last year, so look for those sooner rather than later.
What's Up with ALDI Finds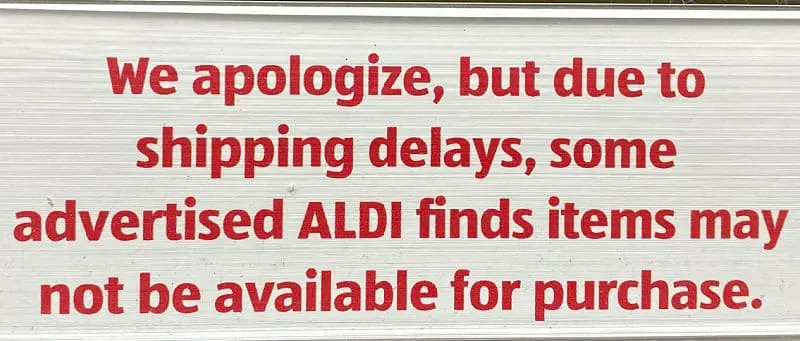 What's up with ALDI Finds? Well, these are limited time special buy items that are available in stores only while supplies last. So if you spot something you like, be sure to pick it up while you can.
Before shopping for new Finds this week, you might wish to visit the ALDI Finds product delays page. Because of ongoing shipping delays and materials shortages affecting ALDI and many other retailers, certain advertised products may not be available in all locations.
Finding the Finds
Where do you Find all of this week's special buys?
Check out the "ALDI Finds" and current weekly ad tabs (or mobile menu choices) on the ALDI site to window shop from home.
If you're planning an in-store shopping trip, use their online ad to help determine what you'll grab and purchase if you do see it in the store.
Products mentioned in this post were either spotted in store or are from the ads starting 4/24/22 in Sunday ad markets, 4/27/22 in Wednesday ad markets. What caught your eye among this week's ALDI Finds?
---
Share this post
---
---