Curb Appeal: 25 Modest Yet Gorgeous Front Yards
Posted by admin on
If you live in a modest home, chances are your front yard is a modest size as well. (Although we fully recognize that everyone's idea of "modest" when it comes to house and yard size is relative.) Just because you may have less front yard space than the rolling acreage upon which your dream house sits, doesn't mean your front yard landscape can't be gorgeous. Thought, care, and strategic landscaping can transform even the humblest of front yards into showstoppers.
Transform Your Front Yard with One of These Creative Front Yard Ideas
1. Symmetrical Approach
One of the classic methods of transforming a modest space into something seemingly grander is the use of symmetry. This is true for the front yard as well. An equal balance of elements (grass, vegetation, fencing, etc.) will provide a big bang for your landscaping buck. Even the smallest front yard will look welcoming and tidy when you take this approach. We encourage you to create a solid path down the center of your front yard where possible, which offers visitors a clear entrance to your home.
2. Cottage Garden
When you're short on space, bid a front lawn of grass adieu and say bonjour to a front yard garden. Perennials intermixed with rock pathways, landscape mulch, and a well-designed seating area makes this front yard garden colorfully inviting.
3. "Red Carpet" Walkway
No matter who or where you are, few things are more enjoyable than walking up a pathway flanked with bright, well-kept flowers. These plants lead visitors directly to the front door, and they continue on to the front of the house as well, providing a lovely continuation of landscape design. As you can see, they've added small and subtle lights to this pathway as well, which helps to guide the way at night-time. Many people often forget about lighting in their front yard, but it's crucial for creating a more welcoming entrance to your home.
4. Water Feature
Not all water features are created equal, it's true, but it's important that the feature doesn't overpower the yard and vice-versa. This simple potted feature has a place of prominence but matches the water-saving aura of the rest of the front yard by not being extravagantly watery.
5. Stately Potted Topiaries
Potted topiaries provide a feeling of symmetry and orderliness, even amidst a free-flowing flowery front yard space. Flank the front door with a pair of well-potted topiaries for instant curb appeal.
6. Wildflowery Perennials
Some of the most gorgeous front yards I've seen have the look of a wild flowering meadow. If you go this route, you'll want to at least consider the full-growth height of your plants (tallest near the back, shortest in front) so as to be able to see and appreciate each plant in its bloom.
7. Seamless Yard-to-House Transition
Carry the materials of your home's exterior through to your front yard landscaping for a seamless transition between the two. Brick retaining walls, stone steps, even wood planters – all of these things can enhance the prominence of both your home and yard.
8. Pop of Color
Consider the adjective, "pop." It's bold, it's intentional, it's unmistakable. Choose one color of plant to be your yard's Wow factor, then work in plenty of neutral elements around it. This fuchsia ground cover provides just such an eye-catching element. You can add a bold color in many different ways in your front yard, and it doesn't have to be from flowers. You could find a unique decorative item or add a bold coat of paint to the plant pots in your front yard.
9. Section It Off
Dividing up the very small front yard might sound counterintuitive, but it has the potential of making the space appear grander than it actually is. This is particularly true when each piece of the front yard pie is planted intentionally to lead the eye and the visitor beautifully to the front door.
10. Grand, Colorful Entrance
Wherever visitors are meant to enter your front yard (either from the curb itself, the driveway, or somewhere else altogether), make their entrance something special. Large potted mums, for example, are a colorful way to announce their entrance into your yard and home.
11. Simple Xeriscape
The combination of modern architectural details on the home and a desert climate create the perfect setting for a front yard of xeriscaping. This carefully laid out landscape design works well with the deliberate lines and planes of the house.
12. Outside-the-Box Xeriscape
Of course, xeriscaping doesn't have to be confined to gravel and desert cactus. Beautiful blue flagstone slaps add color, depth, and the backbone of this beautifully diverse front yard.
13. Shorter, Friendlier Fencing
With its short white picket fence and bold red front door, this home seems open and inviting and ready to welcome visitors in from the moment they see it. Some well-groomed shrubbery bordering the house itself speaks volumes about the care one would expect to find inside the home.
14. Thoughtful Edging
A nice way to transition from solid, hard surfaces (such as the sidewalk, driveway, and even the house itself) is to edge the front yard with a few feet's worth of landscaping. Some shrubbery, flowers, even a tree or two are perfect in easing us from the visual leap to concrete to grass.
15. Filled with Flowers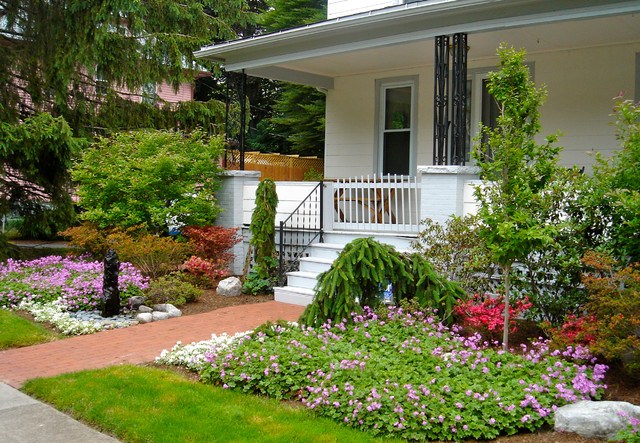 "Stuffed to the brim" might be a better way to put it. The fact that this front lawn is reduced physically to a few square feet between the sidewalk and the landscaping is overlooked because of the vibrant sweeping landscaping leading from the lawn up to the house itself. Various flowers interspersed with shrubs, trees, even a large rock or two provide a lovely visual feast.
16. Window Boxes
No matter how beautifully flower-ful your front yard is (or isn't) to begin with, window boxes overflowing with vibrant blooms adds a delightful element to any home's curb appeal. Celebrate the growing season with some gorgeous window boxes! Window boxes can be added in all shapes and sizes, and they can be tailored to fit the size of your home. You could even have a go at making them yourself if you feel like trying a DIY project for your front yard. We love adding flowers that dangle over the side of window boxes, as these make a really fun addition to your home.
17. Vertical Details
A flowering tree and climbing flower in this clean, modest front yard landscaping raise both the visual height of the yard itself but also the classiness of the home overall. Make sure you add a variety of heights in your landscaping for maximum curb appeal.
18. Asian-Inspired
There is a decidedly serene energy in Asian-inspired design, and the front yard that follows the thought process will be relaxing and inviting. The yin and yang elements of rock, stone, and vegetation produce a sense of balance, while the windows of the home itself reflect both light and nature itself. Beautiful. After a busy day at work or school, your family will be welcomed home with this relaxing entryway. The textures and materials used in this front yard evoke a calming feeling that will continue as you head into your home.
19. Flowering Baskets
Whether hung from the eaves of your house or on a hook out in the front yard landscaping itself, flowering baskets are a beautiful way to offer instant, fresh color and appeal to your home. Bonus: They can be changed up every year for a fresh new look to your front yard.
20. Low Maintenance Boxwoods

Boxwood plants are a fantastic component of a modest front yard because they provide year-round greenery, they are easily manicured and shaped (even for the amateur gardener), and the look is stately no matter how big or small.
21. A Front Yard Rose Garden
Roses are one of the most beautiful flowers out there, and adding them to your front yard will completely transform this space. Backyard Garden Lover offers us a full selection of ideas for adding roses to your front yard, which could be as simple as just adding a few bushes or completely transforming your front windows. If you have a larger front yard, consider adding a rose walkway, which will make a spectacular first impression when you welcome guests to your home this year. Roses come in so many different varieties and colors, so you'll have no issue finding an option that suits the décor and style of your home.
22. Small and Subtle Window Boxes
If you don't have the space in your home to add a huge window box display as we showcased earlier, you'll love these subtle window boxes from HGTV. They'll show you how to make your own window boxes from scratch, and the great news is that they are rot-resistant. Once you've made your own window boxes, you'll be able to fill them with the flowers or plants of your choice. Our top choices for flowers to add to a window box include pansies or petunias, but you could even grow herbs to use for cooking in these boxes.
23. A Raised Flower Bed
Home Sweet Roman shows us how to achieve their front yard transformation, where they created an incredible raised flower bed. You'll add curb appeal with this addition to your home, which is a really sleek and stylish way to upgrade the front of your home. Of course, once you've built the raised flower bed, we encourage you to add plenty of colorful flowers and plants to create a really welcoming first impression for your home. While this project will take a little bit of work and effort to create, it's well worth it for the transformation to your front yard.
24. A Bicycle Planter
For anyone that's looking for a way to add a fun touch to their front yard to add more character to your home, consider making a DIY bicycle planter. Our Fairfield Home & Garden shares how they took an old bicycle and transformed it into a beautiful floral decoration for their front yard. All you'll need is an old bike, two baskets, and some wire to attach them to the bike. From there, you can add decorative moss and a selection of your favorite potted plants. It's a really fun DIY project, and we encourage you to add as many bright and colorful plants as possible to your bike for a striking decoration that will wow anyone who approaches your home.
25. A Pondless Water Feature
Anyone can add a small water feature to their front yard, which will create a calming welcome to your home. Pretty Purple Door offers us this pondless water feature which will only take a few hours for you to create. You don't have to be the most experienced DIYer to enjoy adding this to your front yard, and it has a unique design that makes the basin invisible. When you approach your home, it looks like the water just seeps straight into the ground, and your guests will be intrigued about how this fun water feature works. Water features are one of our favorite ways to transform any garden, and kids and adults alike will love watching the water go round and round.
Any of these simple front yard landscape ideas will completely transform your home and make a great first impression for anyone who visits. Even if you live in a more modest home, you can make the most of a front yard of any size or shape. Just because you don't have a huge area to work with, you can add flowers, water features, and much more to increase your curb appeal. Mix and match a few of these ideas listed here today for a complete makeover for your front yard this year.
The post Curb Appeal: 25 Modest Yet Gorgeous Front Yards appeared first on Home Decorating Trends - Homedit.
---
Share this post
---
---