Dragonfruit Chocolate Chip Cookies
Posted by admin on
I promised an early February full of pink food and Valetinesy goodness, and todays recipe is just as vibrant as the beet hummus from earlier this week! This week, the holiday (whether you like it or not!) falls on a Friday, which means you can have the benefits of receiving flowers at work and being able to stay up late without having to go to work the next day. Or if youre in the service industry, people will stay out later, eat and drink more, and be so happy theyll tip you lots we hope.
No matter what day of the week V-day is on, we arent really the going out and jewelry gifting type (but Patrick, if you are reading this, I wouldnt mind some pink sapphire stud earrings). We usually order a heart shaped pizza and eat whatever ridiculously over-the-top themed candy hes bought me from the holiday section at Bi-Lo. That holiday section is going to be the thing that breaks his bank account, and I swear they know exactly what will hook his attention. Its fun seeing how happy he gets at my reactions to his surprise gifts though. I imagine this Valentines Day will also entail a Marcos heart shaped pizza and eating the candy from these insane Russell Stover boxes he got me. Can u not?
Much like the beet hummus recipe, these cookies get their coloring from a natural source as well dragonfruit, or pitaya as its also known. This superfood is being rebranded and brought back into the spotlight most loudly by the company Pitaya Foods. This company sells frozen pitaya and powdered pitaya. Ive found it most frequently in Whole Foods, as well as Publix Greenwise markets, and online of course.
Benefits of Dragonfruit
Much like all vibrantly colored foods, dragonfruit has lots of nutrients. Among those are antioxidants, magnesium, vitamin B2, vitamin C, iron, and fiber. Plus, it makes everything a gorgeous hot pink hue that seems like it shouldnt be found in nature.
Dragonfruit in America is most commonly consumed in smoothies, while a few intrepid people have used it in fruit salads and other baked goods too. It looks like 95% of the recipes out there are for smoothies, shakes, and boozy drinks though.
You could say that this is making chocolate chip cookies healthy, right? Lets go with yes. Between the fruit and the dark chocolate, these cookies are packed with healthy antioxidants to keep inflammation down in your body, in theory. Look how pretty and pink the raw dough is. The benefit of this being an egg free cookie dough is that the USDA wont tell you not to eat it, so nibble away.
Dragonfruit Chocolate Chip Cookies
1/2 cup unsalted butter (softened)
1 cup white sugar
1 3.5 oz package thawed Pitaya Plus puree (OR 1 cup frozen pink dragonfruit cubes, thawed and pureed)
2 cups all purpose flour
1 tsp baking soda
1/2 tsp salt
1 tsp vanilla extract
1 cup dark chocolate chips
Preheat the oven to 375 degrees F.

Cream the butter and sugar in a stand mixer with the paddle attachment.

Add in the thawed dragonfruit puree and keep mixing til blended.

Pause the mixer and add in the flour, salt, sugar, baking soda, and vanilla.

Continue mixing on low speed until just combined.

Use a rubber spatula to fold in the dark chocolate chips.

Use a tablespoon to drop small amounts of dough onto a cookie sheet, evenly spaced.

Bake for 14 minutes, switching the cookie sheets in the oven halfway through.

Let cool on a wire rack.
As you can see, the color does lighten a bit after baking, but its still a lovely hue of pink that you normally dont get to enjoy in cookies.
These cookies are based on applesauce chocolate chip cookie recipes that replace the egg with a pureed fruit to act as the binding agent, making these cookies lower in cholesterol. They are also great cookies for people who are allergic to eggs or who dont eat dairy (if you replace the butter with a vegan substitute that works for baking, and use non-milk dark chocolate chips). I am fine with dairy so I left those as is in this recipe, but subbing these items out is becoming easier and easier as companies develop better plant-based food technology.
Want more pink treats? Try beet hummus with everything seasoning, strawberry soup, and blood orange pound cake.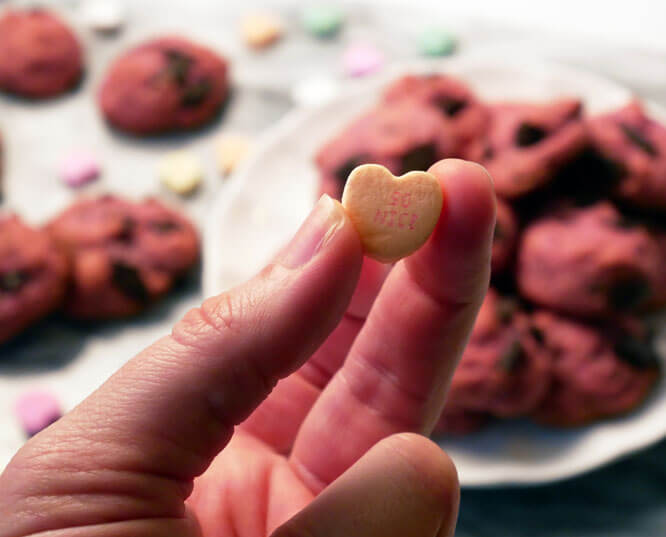 The post Dragonfruit Chocolate Chip Cookies appeared first on The April Blake.
---
Share this post
---
---