Parker House Rolls~ Rye Cheese Butter Crusted
Posted by admin on
To make good bread you really only need some extra time and some extra patience
This beginner recipe for dinner rolls in the classic Parker House style fold
Is going to change your mind about making delicious bread at home!
Perfect little pockets of rye and cheese with a buttery crust!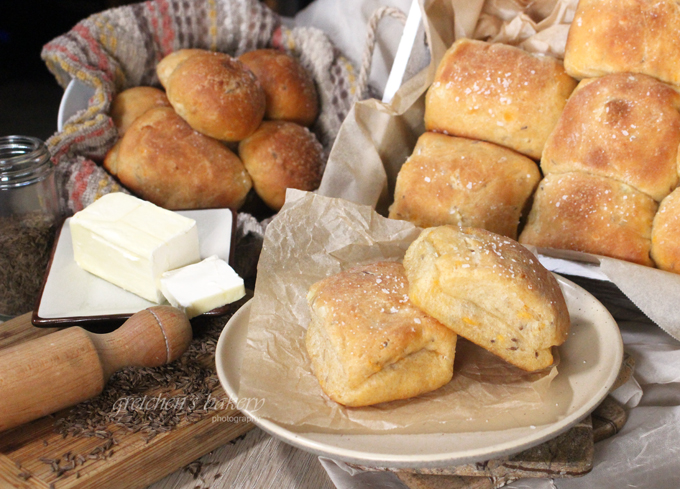 An addition of rye flour to the bread dough along with caraway, onion and cheese is what makes these Parker House rolls so unique
Of course Parker House rolls are already unique
Because of the way each one gets folded with it's own little pat of butter baked inside!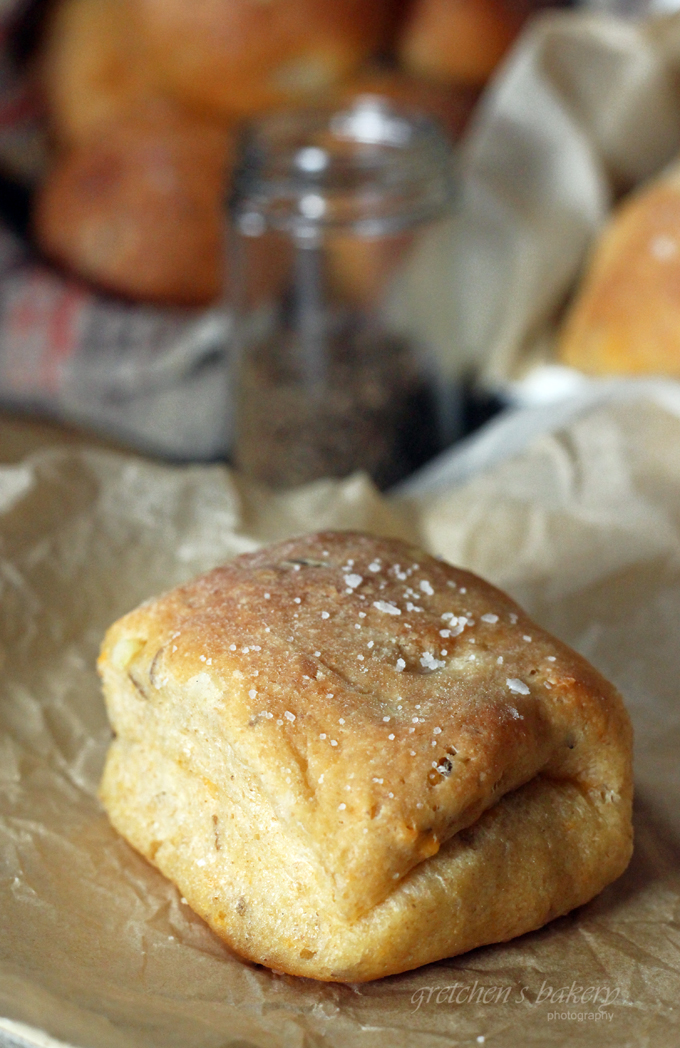 With an additional brushing of butter before they go in the oven
And a sprinkle of sea salt
Baked together in family style pull-apart bread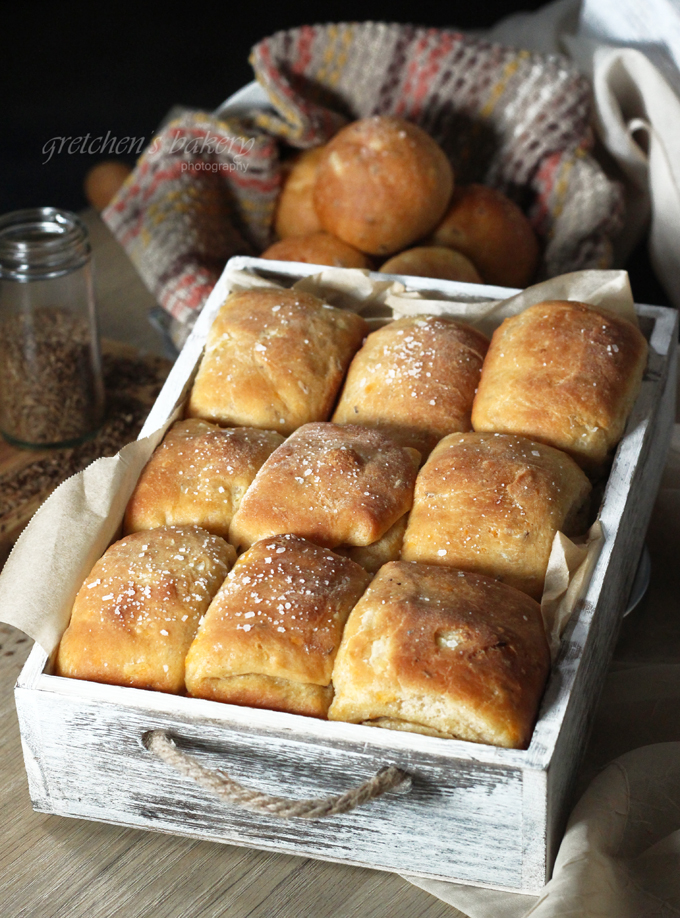 If you watch the video tutorial for how I made these dinner rolls
You will see that I could not get rye flour so I used whole wheat flour interchangeably
You can also omit the caraway seeds if you don't like seeded bread.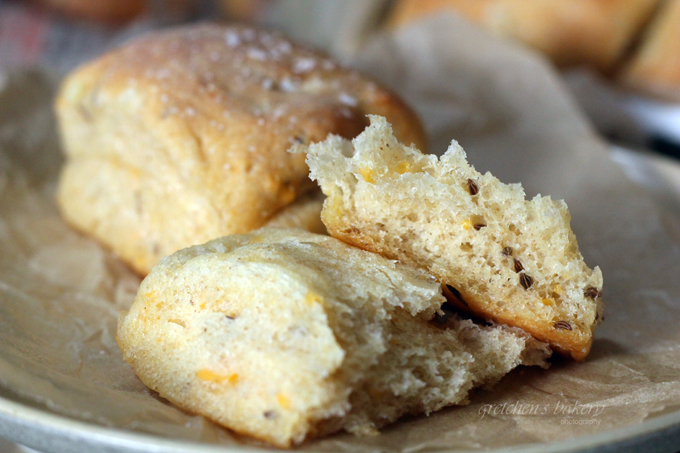 If you think 24 rolls is just too many, I urge you to make the whole recipe
These dinner rolls are great for a holiday dinner and they also freeze great!
Additionally if you don't want to take the extra time to do the folds with the butter inside
I show you a quick way to make them as into mini dinner rolls too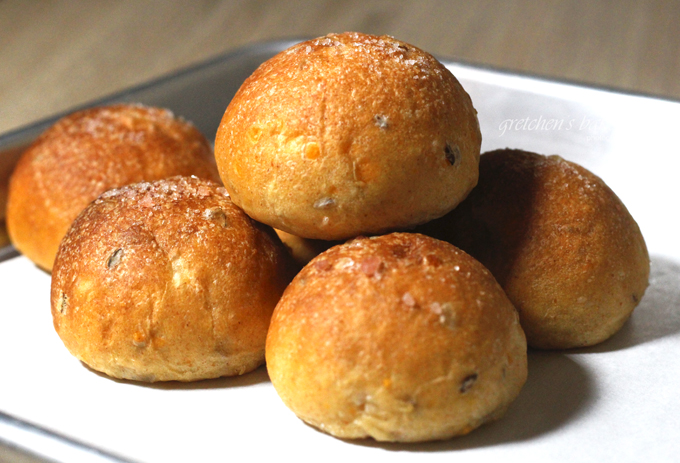 Note for Success:
Making any type of dough often requires an eye for how the dough should look as well as how it should feel
Depending on various factor (that I explain in the video) you may need to add a small amount more flour to get your dough to the perfect consistency
As long as you measure properly you should not need to make any major adjustments
This is a very beginner friendly bread recipe
The video tutorial while it is lengthy it does show you all the important keys to success in making bread dough
I have the video timestamped for your convenience to skip to the important parts
In case you don't have twenty five minutes to spare on a video!
CLICK HERE FOR THE FULL YOUTUBE VIDEO TUTORIAL FOR HOW TO MAKE THESE PARKER HOUSE ROLLS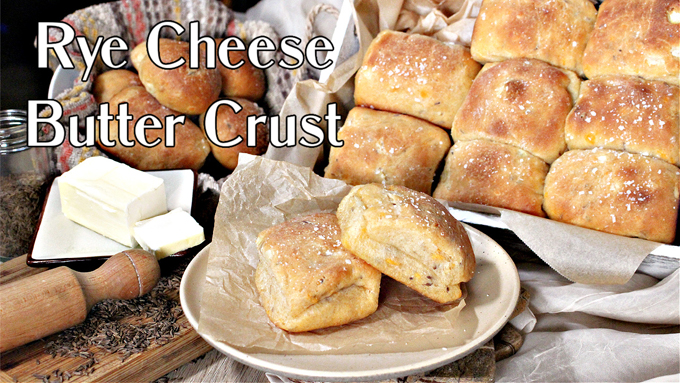 I am using dry active yeast but instant yeast can be used interchangeably here
I also use soy milk but you can use any plant milk of your choice
Any vegan cheese would be perfect for this recipe
For more information about flour type, the King Arthur website has the best most clear information *not sponsored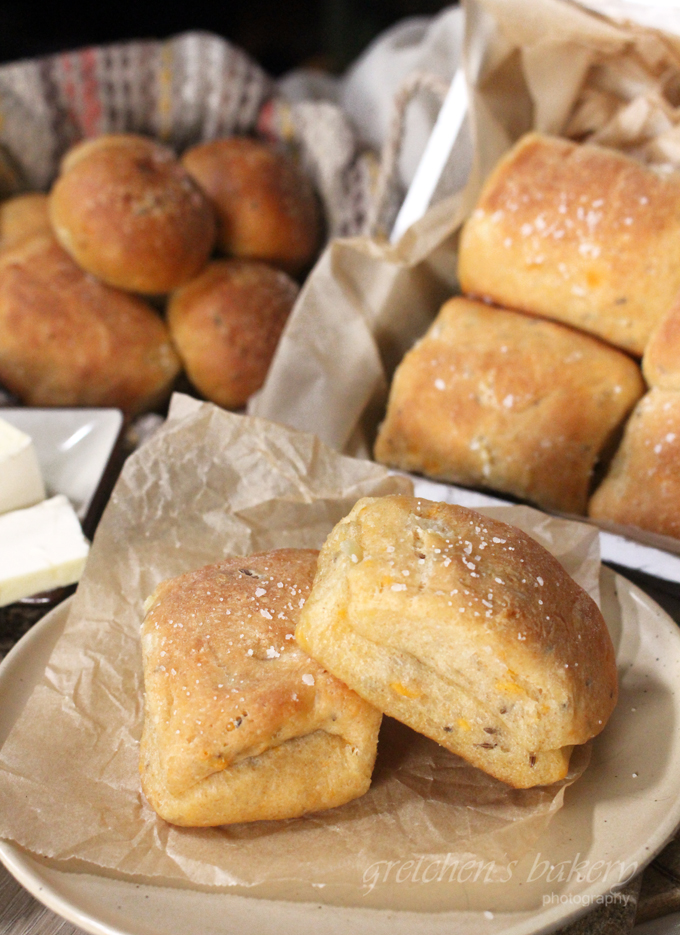 For more easy yeast dough recipes click the links below!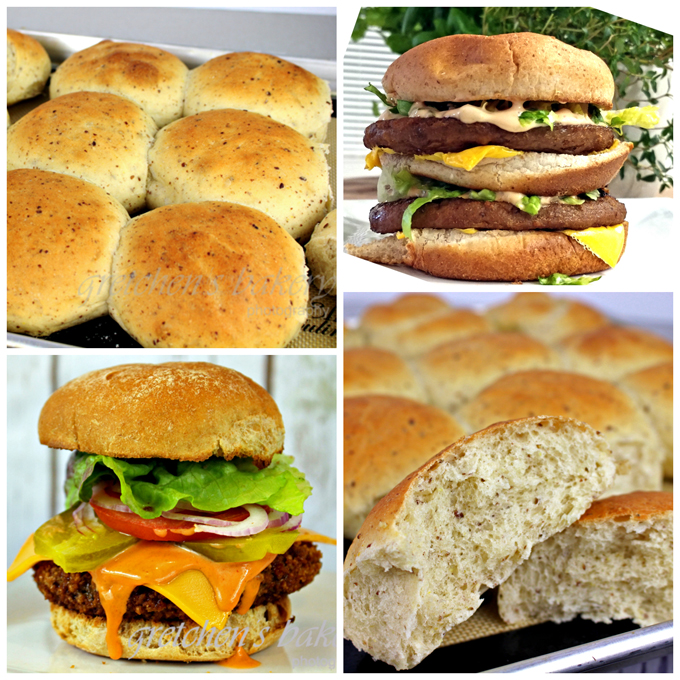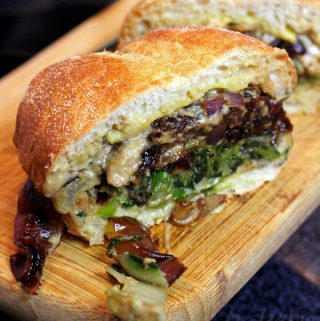 Soft Rolls Recipe Hamburger Buns
Parker House Rolls~ Rye Cheese Butter Crusted
Ingredients
Vegan Butter divided into ¼ cup soft & another ¼ cup melted & another 12 Tablespoons cut into 24 pieces & frozen until needed
Dry Active Yeast 2½ teaspoons
Warm Water (approx 100°F) ½ cup (118ml)
Plant Milk ½ cup (118g)
Bread Flour 2½ cup (312g)
Rye Flour ¼ cup (30g)
Granulated Sugar 3 Tablespoons (54g)
Salt 1 teaspoon (6g)
Minced Onion ½ cup
Caraway Seeds 2 Tablespoons
Vegan Cheese Shreds *cheddar is best ½ cup
Sea Salt for sprinkling on top
Instructions
Combine the warm water & plant milk with a large pinch of the sugar in a bowl and sprinkle the yeast over top
Whisk together and let stand for 5 minutes to frothy
Meanwhile combine the rye & bread flour together in your mixer bowl and add the remaining sugar and salt
Add the first measure soft vegan butter with the frothy yeast/milk mixture
Mix with a dough hook *or by hand on low speed to form a shaggy dough, adjust with more flour 1 tablespoon at a time only if needed to form a dough that clears the bottom & sides of the bowl
Increase speed to medium and mix for 8 minutes
Meanwhile chop the onion and combine in a bowl with the caraway & cheddar shreds
Once the dough has mixed for 8 minutes, add the onion/cheese mixture and mix for another 1 minute
Cover the bowl and let the dough rest for 30 minutes
Next fold the dough over onto itself about 15 times gently stretching it from the bottom and folding it over onto the top while rotating the bowl
Cover and let rest for 45 minutes to double
Meanwhile prepare your butter pats (or melt those 12 Tbs of butter and follow the second option shown in the video for brushing on melted butter)
Once the dough has doubled, turn it out onto a lightly floured surface and gently press out the gasses.
Divide the dough into 24 equal pieces and roll each piece to a rectangle about 3" x 5"
Place a butter pat on one edge of the dough and fold the other edge over onto it sealing the edges
Place each roll into a lightly greased sheet pan or 9" x 13" pan spaced ½" apart
Repeat with all the remaining dough and then cover the pan with a towel or plastic wrap and set it in a warm place to rise again.
This should take about 30-45minutes
Just before baking, brush the tops of each roll with the other melted butter & a sprinkle of sea salt
Preheat the oven to 375°F and bake the rolls for approximately 25-30 minutes
They will be golden browned and glistening from the butter
Lift a piece of dough away from the center to see if is is still raw- if it is bake longer, otherwise remove from oven
Cool 10 minutes before serving
Notes
Like all yeast dough, dinner rolls will go stale before they go bad
Keep in an airtight container at room temperature for about 4 days.,
The dinner rolls freeze great, wrapped well, thaw unwrapped for an hour before serving or re-warm in the oven
The post Parker House Rolls~ Rye Cheese Butter Crusted appeared first on Gretchen's Vegan Bakery.
---
Share this post
---
---