The Best Wheelbarrows of 2022
Posted by admin on
— Recommendations are independently chosen by Reviewed's editors. Purchases you make through our links may earn us a commission.
If you need to haul more than an armful of leaves, mulch, plant flats, or cinder blocks around your yard, you need a wheelbarrow. A good wheelbarrow or garden cart can be an essential gardening tool, letting you carry bulkier loads and heavier loads than you can tote in your hands alone. Wheelbarrows can also double as containers for mixing your own potting soil, screening compost, or making small batches of concrete for fixing low walls and pavement.
A great wheelbarrow will hold everything you want to haul, without wobbling or lurching when you go around corners, up steps, or over small obstacles. The best wheelbarrows also have tires that turn smoothly and can push through sand and gravel without getting stuck, even when it's fully loaded.
After testing a number of the best wheelbarrows on the market over a New England spring, the True Temper 6 cu. ft. Wheelbarrow (available at Amazon) emerged as Best Overall for its pairing of a sturdy metal tray and comfortable handles with smooth rolling. It also has great control for wheeling heavy loads up and down slopes, making it an excellent traditional wheelbarrow.
For a lighter-weight wheelbarrow for smaller loads, the Marathon Green Yard Rover (available at Lowe's) is our choice for Best Value.
These are the best wheelbarrows we tested, ranked in order:
True Temper 6 cu. ft. Wheelbarrow
Jackson 6 cu. ft. Steel Contractor Wheelbarrow with Knobby Tire
Goplus Dual Wheel Wheelbarrow
Marathon Green Yard Rover
Rubbermaid Commercial Big Wheel
Worx Aerocart WG050
Gorilla Carts GOR4PS
Allsop WheelEasy LE Foldable Garden Cart
MacSports Classic Mac Wagon
Garden Star Garden Barrow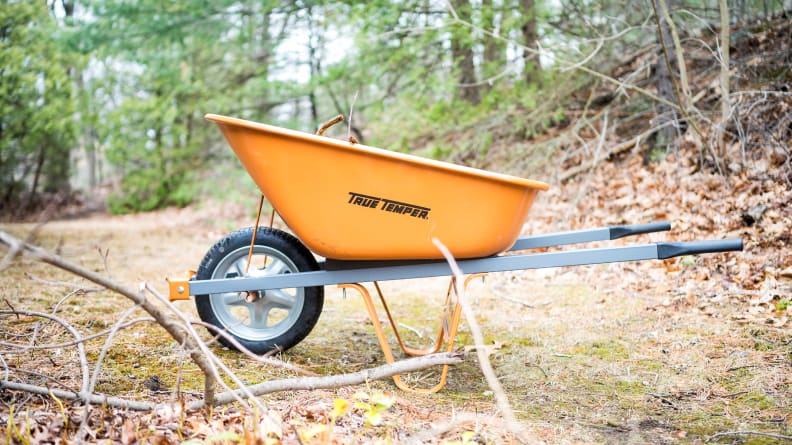 How We Tested Wheelbarrows
The Tester
I'm Meg Muckenhoupt, a garden writer and reviewer. I've been digging up yards for more than 20 years, and along the way I co-founded a community farm and earned a certificate in field botany. I've grown everything from radishes to rosemary from seed, and although I'm working to put more native plants in my garden, I have a weakness for David Austin roses. My idea of a fun day is hauling compost around my yard and rearranging rocks.
The Tests
We tested 10 different heavyweight, lightweight, and collapsible wheelbarrows and garden carts. No electric wheelbarrows here—these were all manual.
First, the wheelbarrows and carts that arrived in parts were assembled following each manufacturer's instructions. Air-filled (pneumatic) tires were checked for tire pressure and inflated per recommendations. Each model was then put through an obstacle course unloaded, loaded with mulch, and loaded with 16 bricks (weighing 80 pounds).
The obstacle course involved going uphill and downhill, over a slope covered with ground cover pachysandra and branches ranging from 1/4 to 3 inches in diameter, through a pile of sand, around a 1-foot curve, through gravel, and up and over an 8-inch step with an overhanging lip. After the obstacle course, the wheelbarrows were run over a bundle of thorny rose canes while loaded with bricks.
Wheelbarrows and carts with inflatable tires were then re-checked at the end of testing.
What You Should Know About Buying Wheelbarrows
The right type of wheelbarrow for your yard depends on how you'll be using it and where you'll be storing it. The key factors include the number of wheels, what the tires are made of, the tray capacity and material, and the handles.
Wheel Design
Wheels can be single or in pairs. (We also tested four-wheeled versions with flat beds, which are typically called garden carts.) The trade-off is maneuverability vs. stability. A single-wheel wheelbarrow can pivot around tight curves, but can feel unwieldy with heavy loads, and can sink into soft soils.
Four-wheel carts are stable, but can't go around corners easily, and most of them can't be dumped out easily. Two-wheel wheelbarrows are a compromise, allowing better maneuverability than four-wheel carts, and more stability than single-wheel wheelbarrows.
Tires
Tires can be air-filled (aka pneumatic), solid plastic, or "flat-free" solid rubber. Air-filled tires are the best for pulling heavy loads over uneven ground or stairs. The air acts as a cushion, reducing the effort you need to push the wheelbarrow forward and letting the wheelbarrow bounce over obstacles. Unfortunately, air-filled tires can get flat, and usually require home inflation; be careful inflating them at gas-station air pumps, which can over-inflate small tires very quickly.
Most "flat-free" tires are made of solid rubber that's slightly soft. They offer most of the benefits of the air-filled tires without the maintenance headache. Solid plastic tires have no advantages. Since they can't flatten or bounce over obstacles, you will feel every rock or branch in your path as you push them around--and it will take more effort to push than wheelbarrows with air-filled or flat-free tires.
Tray Capacity
Tray capacity is tricky because wheelbarrow trays aren't square. The angle at the "nose" end means that the cubic feet of capacity aren't square. If you're hauling something cubical, like hay bales, you won't be able to use all the space in the tray, and you'll only be able to fit as many flats of seedlings from the garden store as fit in the flat bottom of the tray, not the full length of the tray with nose.
If you're concerned about fitting a particular type of item into your wheelbarrow, look at the size of the base of the wheelbarrow and the height of the sides, not how many cubic feet it holds.
Tray Material
Wheelbarrow trays are made out of painted steel or plastic. Steel wheelbarrow trays are heavier, although that really only matters if you're going to be lifting your wheelbarrow into a vehicle or onto a wall hanger for storage.
Steel construction will rust if left outside because the paint is easily scraped off by everyday use. However, trays with a steel frame are sturdy, and won't bend under heavy loads. Our sample included stamped steel trays suitable for home use. If you need a contractor-grade heavy-duty wheelbarrow, look for folded steel trays which are thicker, heavier, and more durable.
Plastic wheelbarrow trays are lighter weight and rust-proof, but consumer reviews complain that they buckle and collapse under loads of dense, heavy materials like gravel.
A few collapsible wheelbarrows and garden carts have trays made of nylon or canvas. They are very lightweight, but not at all sturdy. Choose these carts only if you are very short of storage space, or only plan to use your cart for lightweight loads.
Handles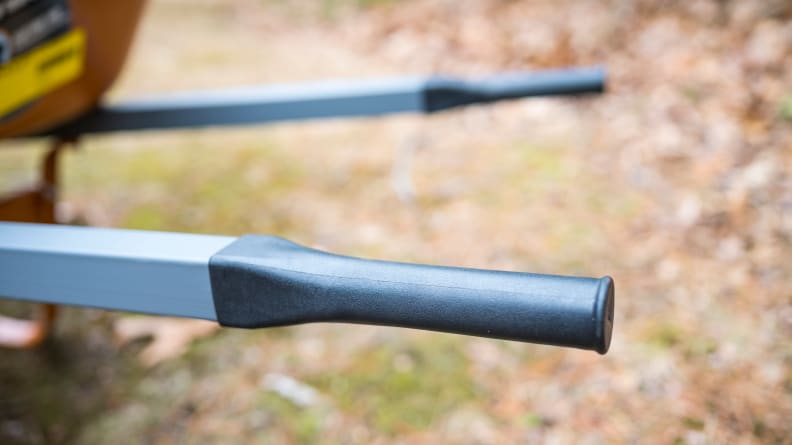 Wheelbarrows typically either have two handles made of metal or wood, or a loop handle made of metal. Two-handle models are easier for people of different heights to use. Loop handles on lighter-weight make it possible to store the barrow by hanging it up, but can be more awkward for very short or tall users. Wood handles can also be rough and feel like they'll shed splinters if they're made of unfinished wood.
---
Other Wheelbarrows We Tested
More Articles You Might Enjoy
---
Share this post
---
---